Your time to purchase a ticket for A Day of REST is running out. The event is just a few weeks away, March 8-10 in Boston. If you come, you'll have the opportunity to attend in-depth talks, plus workshops catered to beginners and advanced developers alike — all from some of the top JavaScript and WordPress experts in the world.
There is no other event catered to an audience like A Day of REST. Organized by Human Made, A Day of REST is specifically catered to the now-in-core WordPress REST API.
The REST API opens up a lot of new opportunities for WordPress developers, and makes much of WordPress's built in functionality available to developers more familiar with other platforms and frameworks.
You can now use WordPress as the data store for a JavaScript application, or sync with another CMS, or easily deliver content to a mobile application. And much more.
Workshops for hands-on learning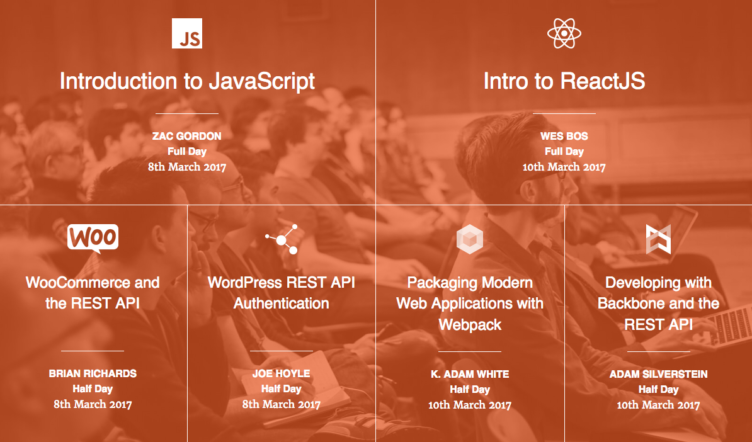 The workshops have top folks in the industry ready to teach you in a small group setting.
Full day workshops
React for Beginners creator and general JavaScript expert Wes Bos will be teaching a full day class on React. Wes freaking Bos! I don't need to say anything else about Wes. His workshop will be incredible, guaranteed.
Zac Gordon will do a full day introduction to JavaScript. Have you been wanting to learn general JavaScript? Now is your chance. More and more of WordPress itself is made with JavaScript, and it's time for WordPress developers to learn it. Zac is a professional teacher with years of experience, and he's the perfect person to walk you into the crazy land of JavaScript development.
Half day workshops
There are also four half day workshops.
Do you want to learn more about the WooCommerce REST API and how it fits in with the broader WordPress REST API? Brian Richards has you covered. That same day you can learn about authentication — with its eccentrecities — from WordPress core committer and Human Made CTO, Joe Hoyle.
And for the second day of workshops (the day after the main event), WordPress REST API design lead K. Adam White will demystify Webpack with you. Having attempted using Webpack recently, I know I need this personally. And Adam Silverstein will show us the ins-and-outs of Backbone and the REST API. Backbone powers many of the JavaScript features within the WordPress admin itself, and will be highly practical for those of you doing advanced features within the WordPress admin.
It's hard to find an opportunity to learn like this in our space. If you're serious about upping your game with the REST API, check out the workshop schedule and pick which ones are right for you.
The main event
In addition to the workshops, the main event day will also be chock full of informative content.
You'll have the opportunity to learn about the new API from both a technical and design point of view.  Ten veteran speakers will share their journeys building and using APIs in real life.
I'll share two talks I'm particularly excited about, just to sample what you can expect. Build APIs You Won't Hate author Phil Sturgeon will share tales of his six years building APIs so you can avoid mistakes he's seen along the way. Rachel Baker — WordPress REST API co-lead and the Director of Engineering at The WireCutter — will walk through how to create real-time APIs using Webhooks.
Check out the schedule to see everything A Day of REST will offer.
See you in Boston?
This post is indeed a shameless promotion; I am a co-organizer (in a much smaller capacity than Human Made) for this event. I firmly believe a developer or individual interested in this exciting new API will get more than their money's worth from A Day of REST.
I hope that I'll see you in Boston. It is coming very soon! If you live anywhere on the east coast, or especially in the northeastern US, it's a quick and easy ticket to get there.
As the media partner for A Day of REST, I'll be covering the event, taking pictures, and generally capturing as much as I can.
It's been a privilege to work with Human Made on this event, and I think you will really enjoy it if you go. This is the second edition of A Day of REST — the first was in London — and with the added workshops, this one should prove to be even better.
Get your ticket today, and don't miss out what promises to be a unique learning opportunity that will help prepare you for the next generation of WordPress development.