ManageWP has long been a leader in the small group of businesses that want to help you manage your WordPress installs from one place. The six year old service has gone through a long development phase, where they rebuilt everything from scratch. It is now live for all customers, with a "legacy" option for folks that aren't ready for the switch.
I've experimented with ManageWP's new interface in a couple of sessions, and overall it's a very impressive app. If you are looking for a central hub to maintain a large number of websites, it is a useful tool. The interface is well designed and the team has done a thorough job building out a highly functional app. Also, the onboarding experience is quite good.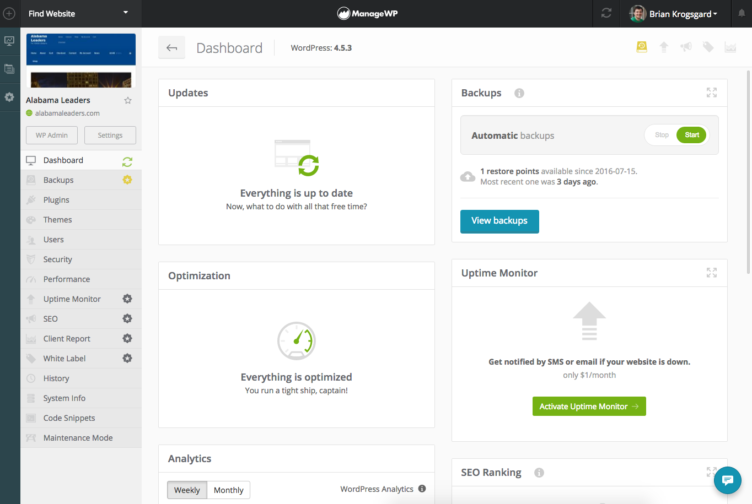 MangeWP is marketing the service as free to start, which is true, but it's a pretty limited scope of features for the free version (at least compared to all that they offer for the paid version), and pricing for the paid components can be tricky to figure out.
A team of, "nearly thirty people," it's evident that ManageWP is gearing this launch first to existing customers, seeking to re-sell the features and new interface to what I presume is a pretty loyal base of customers. It's hard to change your workflows that you've used for a long time, and the carefulness of the launch is evident, from pricing explanations to keeping the legacy format.
Pricing on ManageWP has long been complicated. Previously, three tiered plans (standard, professional, and business) would be discounted based on how many sites were under management. The "standard" plan, which used to start at $1.50 per website, and went to $0.40 per website with 100 sites, is now the free plan. The all-in "business" plan started at $9.00 per website and went down to $2.40 per site for 100 websites.
The new plans are bundle-centric. So instead of getting all pro features, you pay per-feature per-site, or you can buy a bundle for 100 websites. It works out like this (all pricing is monthly):
Daily backups: $2 / site or $75 / 100 sites
Uptime monitor: $1 / site or $25 / 100 sites
SEO tools: $1 / site or $25 / 100 sites
White label: $1 / site or $25 / 100 sites
Advanced client reports: $1 / site or $25 / 100 sites
So for 100 sites under the old plan, you would pay $240, and it would cost $175 under the new plan. For one site, it would have cost $9 but now costs $6. If you analyze pricing a bit further, it's more nuanced. The new plans are more expensive in the 5-50 site territory, as well as for when you manage more than 200 sites. Here's a picture of the new bundle prices, and a graph comparing the top-end plans, old and new: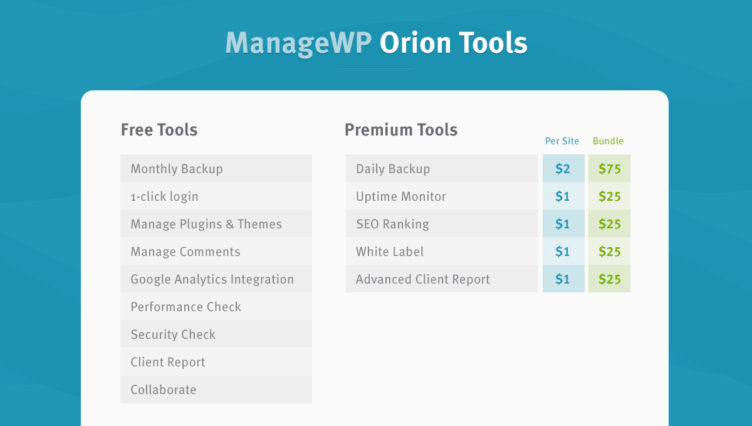 | | | |
| --- | --- | --- |
| Number of Sites | Old Plan (all features) | New Plan (all features) |
| 1 | $9.00 | $6.00 |
| 2 | $12.00 | $12.00 |
| 5 | $24.00 | $30.00 |
| 10 | $42.00 | $60.00 |
| 15 | $60.00 | $90.00 |
| 20 | $78.00 | $120.00 |
| 35 | $120.05 | $175.00 |
| 50 | $150.00 | $175.00 |
| 75 | $192.00 | $175.00 |
| 100 | $240.00 | $175.00 |
| 200 | $352.00 | $350.00 |
| 500 | $420.00 | $875.00 |
For ManageWP, I think this is a pretty smart move, if a bit cumbersome for customers to figure out. For folks just managing a few sites, the new plan is cheaper.
And while there is a significant range of customers that may pay more, that's only if they use every feature. The bundles are a per-feature price, so if someone manages 500 sites but only uses the backup and SEO features, they could end up saving money. And with the new pricing, they know exactly what they're paying for.
However, the new pricing is so complex, I'm not sure if it'll play well with currently loyal customers trying to navigate the waters.
To add one more caveat: even the pricing I've described so far isn't the whole story. For backups, there are yet more options. The $2 per site pricing (or $75 for 100 sites) is based on daily backups. But on a scale all the way up to hourly backups (for $6 per site), users can increase the frequency, for an increased price. Here's a screenshot of the scale: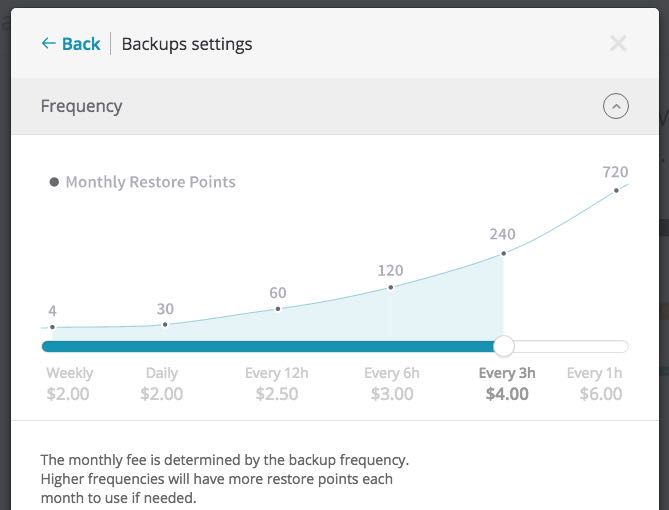 If you compare this pricing to VaultPress — which is probably considered the most reliable backup source in the WordPress world — it's significantly cheaper. Daily backups for VaultPress start at $9, and "realtime" backups (which also include other features, to be fair) are $29 per site per month.
ManageWP founder and CEO Vladimir Prelovac is proud of the new backup technology:
I can easily say that there is nothing like it on the market. We managed to achieve backup 97% success rate world-wide (up from 80% of ManageWP Classic and most other similar WordPress tools)
The most prolific of the "similar WordPress tools" Vladimir is referencing is likely BackupBuddy by iThemes. BackupBuddy and other traditional WordPress backup solutions have long had to fight unpredictable WordPress hosting environments. iThemes, like VaultPress before them and ManageWP now, also saw the value of bypassing the hosting limitations, and in February launched BackupBuddy Stash Live for real-time backups.
So the market is maturing, thanks to competition, and I presume a rising awareness to the importance of not only backups, but recent and reliable ones.
Time will tell how the new pricing plays out. I know that the ManageWP team is paying close attention to adoption of the new application and pricing, and will likely adjust accordingly.
Long pricing and backups tangent aside, ManageWP's history and resilience is a very impressive story in the WordPress ecosystem.
This re-launch of their product took a ton of work and I think they've done a nice job with the rollout as well as the app itself. I look forward, down the road a bit, to see how it all goes for them, as I think their experience could help other product and SaaS businesses learn as well.