Learn new skills and build your knowledge to enhance your career in WordPress! Post Status Upgrade is an ongoing series of live workshops centered around a particular skill or learning activity.
Watch Robert Rowley explain the basics of lock picking in this live, hands-on workshop for Post Status members that took place on May 5th, 2022. Watch as Robert teaches participants how to open locks, as well as their minds. He shares stories about emotional intelligence and the life cycle of skill practice from the beginner's mind to the expert's. You'll laugh at some entertaining mishaps Robert has had with lock picks!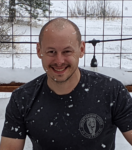 Robert Rowley is Patchstack's Security Advocate and has been picking locks since 2004. Between 2016 and 2019 Robert ran a retreat for his information security friends and colleagues called Disconnect Camp. This is where he first combined skills like lock picking with reflection on mental health, wellness, skill development and more.
StellarWP provides WordPress solutions for all humankind. We're a collective of leaders interested in growing WordPress companies. We build great plugins, but we don't stop there; we continually challenge ourselves to keep innovating and improving. Reach out to us if you're interested in learning more!