It's great to see more great WordPress agencies and hosting companies teaming up, especially when they're both Post Status members! Atarim and Rocket.net is a killer partnership that's delivering the first WordPress hosting and visual collaboration platform for agencies.
Giving and Growing — in Partnership Together
Atarim cofounder and CEO Vito Peleg told me, "The beauty of the WordPress community, apart from the openness and willingness to help each other, is that we're all working toward the same goal — Making the WP pie bigger. And what better way to do that than by enhancing each of our offerings to our clients through partnerships?"
Vito says he's been trying to figure out how to do partnerships right for several years:
"Sometimes they feel a bit sleazy and sales-driven. Which no one likes. Instead, I'm trying to think of potential opportunities that can enhance our and the partner's product as well as accelerate our roadmap or expand to features that we don't want to focus on yet others are already offering."
It's important to Atarim to be partnering with "a reputable product [they] can be proud to talk about and stand behind" because they're putting their product users first and want to show them the value in combining forces with their partners.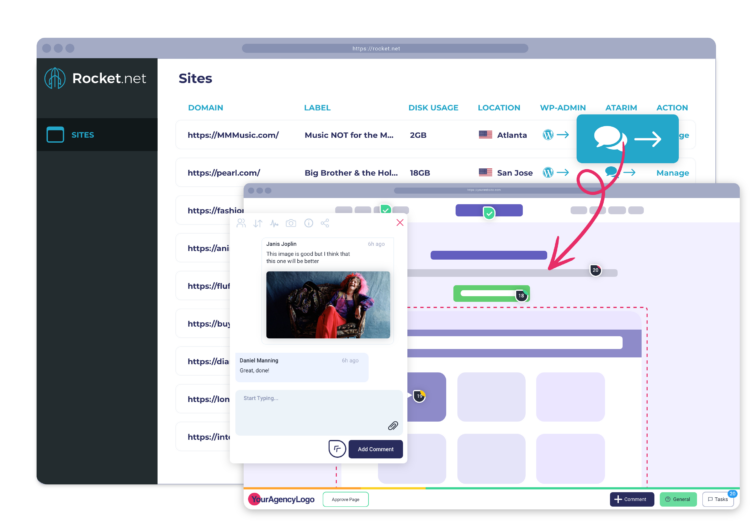 "Rocket.net and our integration with MainWP last month are a great fit for all of these reasons, and it's already showing up in both of our traffic and acquisition stats as well as nice general buzz around the collaborations," Vito observes. He says he's "looking forward to doing even more of these collaborations in the upcoming year."
According to Vito, Rocket.net's "hosting is so amazing," they moved all their sites over to them, and it has significantly reduced load times.
Spin Up Sites and Collaborate via Atarim — or Rocket.net
Atarim customers who do the same and host their sites with Rocket.net will be able to fire up staging websites from the Atarim Dashboard and manage all their connected sites and SFTP users. Atarim's collaboration tool for website builders and designers is accessible from either Atarim's or Rocket.net's control panel.

For agency customers, Atarim is laser-focused on systemizing their workflows and communications. "One of the ways we're tackling this mission is through the constant obsession with reducing clicks from our days as agencies and freelancers," says Vito.
The new integration with Rocket.net allows you to create and manage all of your Rocket-hosted websites directly inside the Atarim dashboard. Atarim users are already logged in there every day for communication internally and with their clients — now they can manage their clients' sites as well.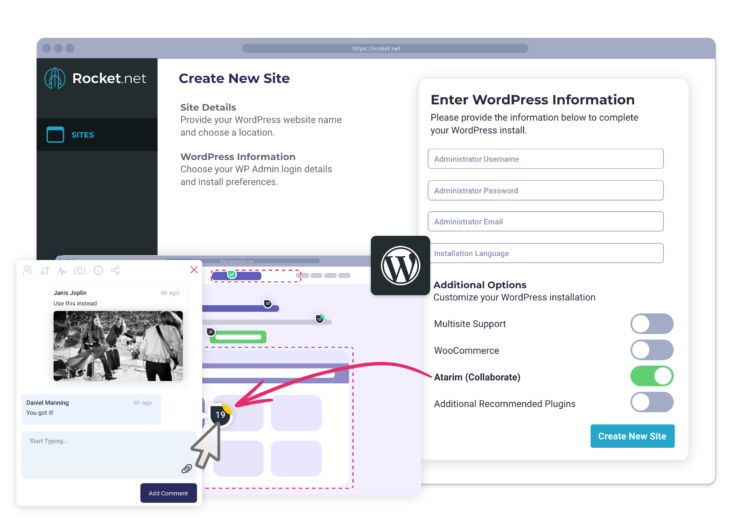 "We also brought our highlighted Visual Collaboration feature directly into the Rocket dashboard," Vito noted. This allows Rocket.net users to "click a single comment icon to start collaborating instantly" on their clients' websites.
Vito hopes this two-way integration will allow Atarim and Rocket.net users "to reduce some of the daily stress that goes along with running a professional web service."