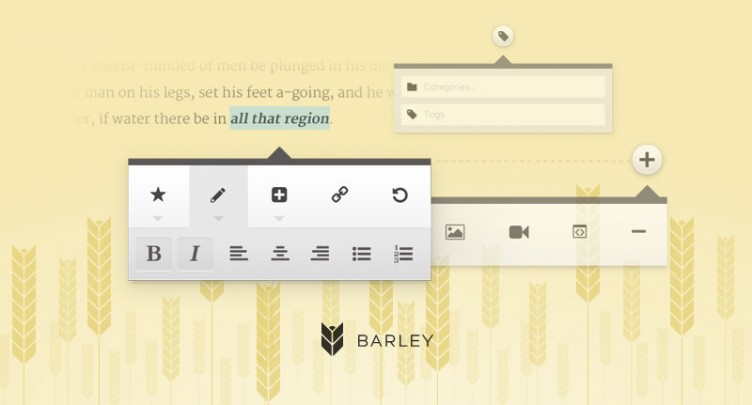 I've had an opportunity to play with Barley for WordPress, an inline editor plugin. Barley is a two-sided product. Barley is a hosted, PHP based CMS, and Barley for WordPress is a WordPress plugin that extends the hosted Barley editing experience to WordPress publishers.
My first thought when seeing Barley for WordPress was that it was interesting timing, considering the front-end editing WordPress core plugin project that's currently under development. Colin Devroe is a co-founder of Plain, the company behind Barley, and I asked him about how Barley for WordPress fits in:
Inline editing is still very new to most people. Just as there isn't any one email client or Twitter client that is right for everyone, surely there isn't any one inline editor that will be just right for every use case.

We hope to bring the Barley editing experience to many more platforms and we hope people begin to expect a great, simple, yet full featured editing experience wherever they see Barley pop up. So we sort of hope Barley becomes a standard.
Using the Barley inline editor
I was a little skeptical when I heard about the Barley for WordPress project. It seems a bit odd to me that a company would build a PHP based, non-WordPress CMS and then extend that publishing experience for self-hosted WordPress. However, they've done a very nice job with their editor. Barley for WordPress is a smooth writing experience, and I could imagine it being very useful for a lot of site owners and consultants that cater to mostly non-technical users.
There isn't a whole lot to say from a technical perspective. I've used this product on a demo site, but I haven't been able to analyze the code at all. But from a user perspective, it works quite well. Their demo video gives a good perspective on the experience:
https://www.youtube.com/watch?v=5YE8ISXkLXM
You can also see a more detailed tutorial on how to post with Barley on Youtube. The editor is pretty fast, which I liked. My only critique would probably be that there were a couple times I didn't really know what to do. Do I have to save? Where do I go to publish? Etc. While it didn't take too long to figure it out, I think they could probably make "decision" tasks a little more obvious.
Also, the options for what to do between formatting text, inserting media, etc, is a predictive thing based on what's highlighted and what the pointer is doing. And while it works, I found myself wanting to be able to right-click or something to choose which of the editing tooltips I could use.
Integrating Barley through partnerships
Pagely is going to be making Barley purchasable straight from their hosting dashboard. That should give the plugin at least some initial exposure to customers already willing to pay a bit more than "normal" WordPress users. Colin Devroe tells me more partnerships are on the way, though they aren't public knowledge yet.
Barley is also going to be making the editor "open" for other applications to integrate with soon, the first of which will be Exposure, a niche photography CMS.
Pricing for Barley for WordPress
Pricing for Barley for WordPress is $12 per site, per year. Or you can purchase an unlimited yearly license for $250. All in all, I'd say it's very affordable.
The one struggle they will have though is the constant comparison to the WordPress core plugin project. If that makes its way to core, Barley will always have to one-up it in order to be a smart purchase.
I imagine it could always be similar to the Tweetbot vs Twitter app battle; and in that scenario Tweetbot holds up just fine for enough users to make it worthwhile for the makers. As long as Plain Made can do the same, they could have a successful product on their hands.