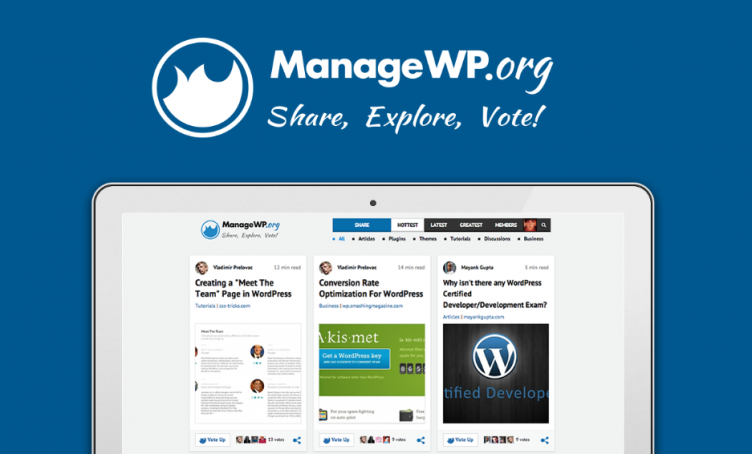 ManageWP has been working on a curated WordPress news site for a long time now. I beta tested and wrote about it in August, and most of what I said then I would say again today. But now that ManageWP.org is public, I'd love to hear what y'all have to say.
It really is similar to what my idea for Post Status was when it originated. You can read about their launch and decision making process on the ManageWP.com blog. However, I've transitioned more to linking my favorite things, not everything someone submits. I found a few things to be challenging for managing a curated system. For one, creating a good calculator for featuring the best posts is harder than it sounds. Second, some submitted stuff just isn't that interesting, but it takes quite a few votes to validate that. If the volume of links and engagement for voting isn't very high to pull the best to the top, then the whole stream becomes cluttered with less interesting content, and the value of the site in total declines.
Of course, the voting model can totally work. We've seen it with Hacker News, Digg, and Reddit. The thing is, those sites have something in common: massive traffic. Maybe ManageWP can pull that off, maybe not. But I think they'll need a high level of traffic to make the curated / voting system work. I know I certainly didn't have enough traffic to pull it off when I launched, and I also just found my voice better with a different model.
So, all in all, ManageWP is trying to replace your RSS feeds and Twitter as your primary place to consume WordPress oriented content. To a degree, I guess they are a competitor to me as well, though I'm not sure that's totally accurate. Time will tell how their system works and how it will evolve based on how people use it.
And you, dear readers, are the ultimate deciders of value for any form of content. I know I spend a great deal of time thinking about you and how I can make you happy. 🙂 But you are confusing, and I don't always know how you will react to my content or my decisions for managing this site. I'm sure the team at ManageWP, or any other blog really, feels much the same way about their readers, and we all just want to know how we can entice your eyeballs, your mouse clicks, and your desire to engage.