Joomla.com launched as a hosted version of the Joomla! CMS. I was interested because my host (SiteGround) had blogged about how they built the hosting platform for the new Joomla.com site. The tech is neat, as is the fact that the folks behind Joomla.com outsourced the hosting.
I'm going to tell you something a little embarrassing: I've never installed Joomla! or Drupal. So, curiosity got the best of me, as making an account on Joomla.com promised to be easier than installing Joomla! just to play with it.
Creating the account was easy enough. But once I actually got to the Joomla! part, the experience quickly fell apart. My first takeaway was that it was impressively unintuitive. As an internet and platform savvy person, I was downright impressed how I had no idea what was going on.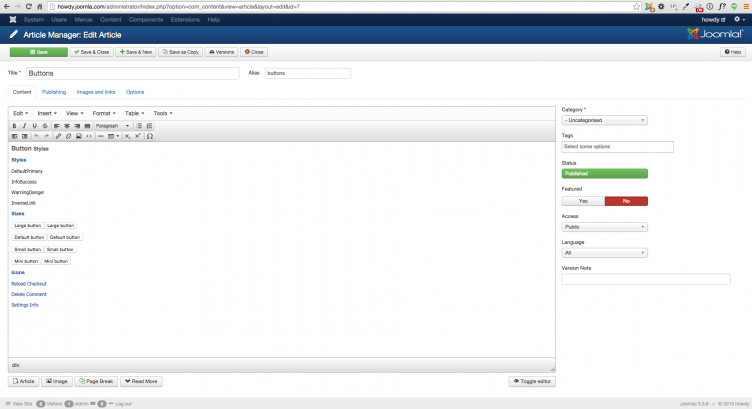 I could not easily:
Switch themes
See content I published
Navigate the admin
Create or manage a menu
Then I stopped playing with it. I'd had enough.
I ended up finding out how to switch themes by doing so through the Joomla.com interface, but not my site admin. Going back now, I've discovered that logging into Joomla.com and my Joomla site are different user accounts as well. I really don't know how to do anything through the Joomla site admin side.
I've created accounts and played with other platforms: Medium, Tumblr, Flickr, Instagram, Facebook, WordPress.com, About.me, and many, many others. This is without doubt the hardest of any to understand.
It makes me wonder: how does WordPress stack up? I imagine I'm looking at the self-hosted Joomla! setup mostly, even though I'm on a hosted version. If "average" people look at WordPress.org the way I look at Joomla, it's no wonder Automattic and anyone else building an app on WordPress wants to simplify the admin.
Though, I can't possibly imagine a new user to WordPress would be as confused as a new user to Joomla!. Though astute reader Nate Wright did note, "To be fair, the experience you bring from another platform can really accentuate the feeling of 'everything is confusing'…"
Perhaps so, but wow. I mean, it was bad.
(I don't know if the "!" is required, but if it is I'm glad I don't run a Joomla! news site)