I know you're wondering. And yes, I showered.
As a matter of fact, the WordCamp Asia team was very deliberate in considering disability needs from the start of Contributor Day through to the announcement of WCAsia 2024 at closing remarks. The hotel was perfect. The venue had elevators and automatic doors (or security stationed to open doors). I couldn't have asked for more.
WCAsia By the Numbers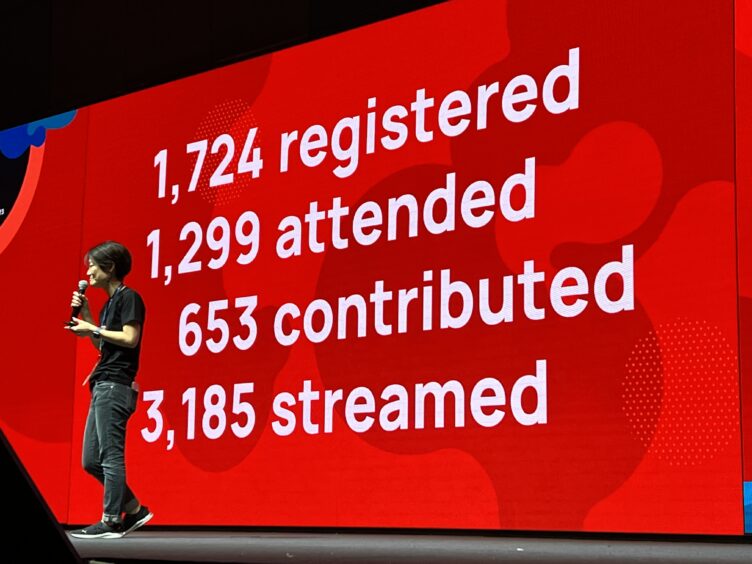 You can see by this screen that WCAsia succeeded in attendance and contributors. In addition, there were 60 speakers, 53 orgainzers, over 80 volunteers, and 29 people on the AV team.
Contributor Day
I was fortunate to be a table lead for Contributor Day. We onboarded many photographers who submitted photos to the WordPress Photo Directory for the first time. Topher DeRosia and I moderated almost 250 photos in one day, while discussing with contributors what makes a good photo, what isn't allowed to be added to the directory, and how every contributor gets a badge on their .org profile.
From what I heard from other table leads, every one of the teams onboarded new contributors and accomplished their goals for the day. It was truly inspiring.
Sponsors
Instead of being off in another part of a building, the sponsor area was in the center of it all. To get from point A to any other point you either had to go through or around the edges of the sponsor booths. I imagine this was incredibly helpful for sponsors, and, honestly, it made it the perfect place to run into people, make connections, renew connections, and grab some awesome swag.
The Selfie Challenge
I put out a challenge that if people posted selfies with me I would donate $5 per selfie to Big Orange Heart. (Up to $500 total.) I'm please to say that not only did I meet that goal (with well over 100 selfies with our amazing community) but Carl Hancock of Gravity Forms matched it, and Vikas Singhal of InstaWP matched it at 50%. All told we raised $1250 for BOH!
Q&A with Matt Mullenweg
I asked a question to Matt during the Q&A Friday morning.
With the wave of layoffs and hiring freezes we have seen in the WordPress community lately, what do you think we, as a community, can do to create more jobs in our ecosystem and stop the anxiety and fear that comes with layoffs like this?
Matt's reply was a bit less than I hoped, basically encouraging anyone who has been laid off to sharpen their WordPress skills, market themselves as freelancers to build a portfolio, and encourage local businesses to get on WordPress.
Some of the people who have been laid off are already big names in WordPress and have a portfolio to back it up.
So it still begs the question – how can we support those who have recently lost jobs in massive layoffs and what does it say about the adoption of WordPress if companies are scaling back? While I don't have the answer, I'm watching closely.
And if you find yourself job searching in WordPress here are a few resources:
Photos, Photos, Photos
To see how truly impactful the first WordCamp Asia was, one has only to look into all of the smiling faces captured in selfies and more.
Here are a few places to look:
Thanks to the Organizers and Volunteers
WordCamp Asia seemed to go off without any issues (though anyone who has ever organized a WordCamp knows there are always hiccups). If there were, the attendees didn't see them. (Other than the technical glitches in the Q&A with Matt Mullenweg, which was still handled very well.)
I would add my thanks to all of the voices praising the organizers and volunteers that made WordCamp Asia so amazing. From the updates on the website to the after party, you all provided information, hospitality, and an incredible warmth to the event.
Thank you a million times over.
WordCamp Asia 2024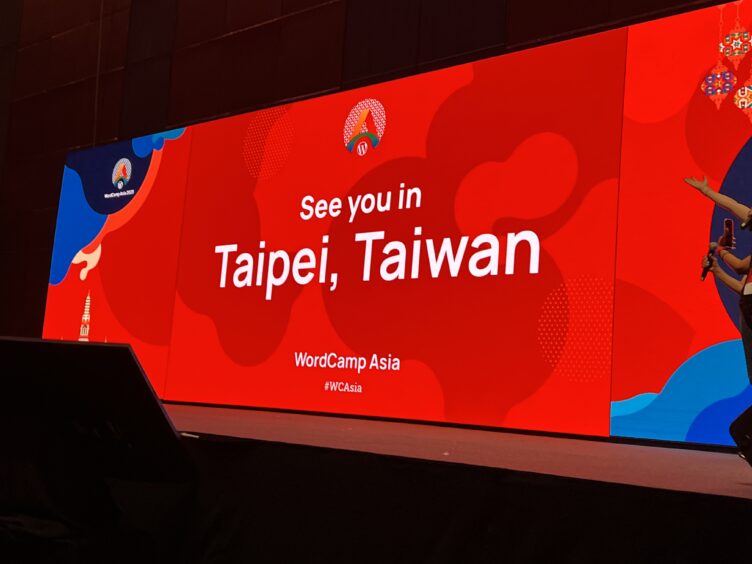 And to the organizers for WC Asia 2024 – wishing you the best as you continue this new legacy. I know you're up to the challenge!