WordPress.org has made incredible strides the last few years on improving the quality of the themes in the repository. Every theme goes through a stringent approval process, thanks to the WordPress Theme Review Team (sidenote: get involved here). But discovery can still be challenging on WordPress.org.
There is a decent, but not perfect, filtering capability on the main theme page of WordPress.org, but the theme discovery process really falls apart with demos. You all know what I mean. When you hit "preview" on a theme page, that terrible thickbox pops up with the theme previewed in a "default" blog format that can really look terrible on many themes. It's a far cry from the carefully crafted demos of just about any commercial theme.
Below is an example of a theme I recently discovered, Pinboard. The one on the top is what it's supposed to look like, and the one on the bottom is what the WordPress preview shows (weird modal alignment and all):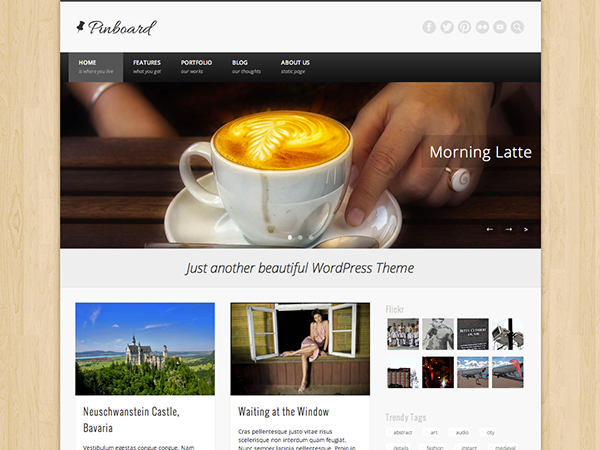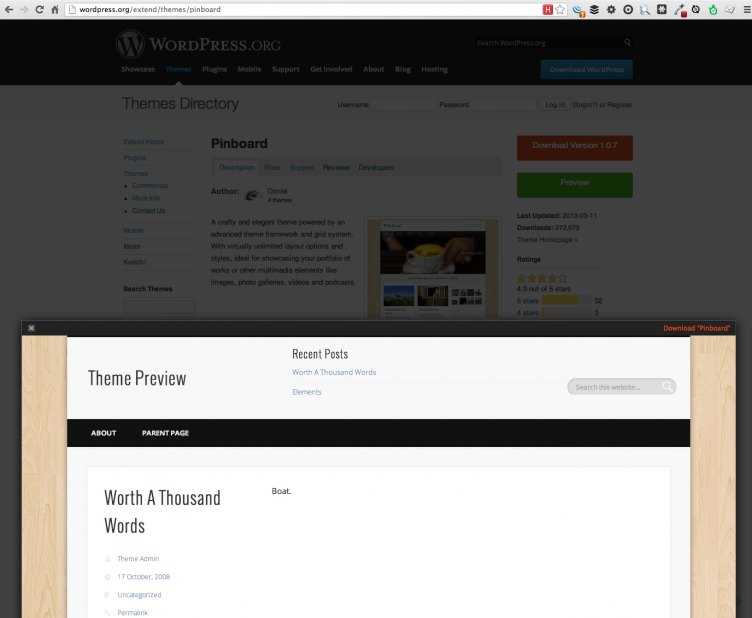 Yep. The .org demo preview doesn't even come close to showcasing what the theme really offers. Now, I know theme authors can create their own demos on their own sites, but why can't WordPress help them? There's this great tool I know of, afterall, called Multisite. I imagine it would be worth the effort to give authors the option of setting up real demos in an official WordPress capacity, on a subsite of a main Multisite install.
I'm sure there are challenges with such an endeavor, and I don't like to complain without doing anything, so if there is anything I can do to help something like this move forward, I'd love to offer up some of my time to do so. Hell, even if I can just promote a better way to showcase WordPress.org themes, I'll do so. These are great themes, and they deserve great showcases.
Some of us spend a good deal of time bragging about how much better coded the free .org themes are. But most people simply don't use a theme because we tell them the code is good. Even though the themes are free, they still need to be better sold to the public by offering better demo options to authors.
Ask any commercial theme provider. The demo is everything to a buyer. Even a free theme is an investment of a user's time and energy, and ain't nobody got time to install something without seeing it in action first.