WPForms is the latest project under the Awesome Motive umbrella. Syed Balkhi is partnered up with Jared Atchison, and Thomas Griffin is serving in an advisory role. Syed posted the backstory on his blog about where WPForms came from.
It's easy to think, "Forms… really?" But according to a survey Syed did on WP Beginner, it was the most requested plugin by beginners. By far the main focus of WPForms is to get beginners setup with common forms that have all the basics covered as fast as possible, and that's exactly what they've done.
Okay, maybe, "forms… really?" was just my reaction at PressNomics when Syed told me they were working on a forms plugin. But once he and Jared gave me a tour of the WPForms interface, I began to understand. Forms are old hat to me (and probably you too). Most of us understand the process of adding a field, managing its settings, making it required or not, adding another field, and so on. Beginners can get confused more easily, and WPForms attempts to make most of the decisions for the user, and only enable the user to edit those decisions once the form exists.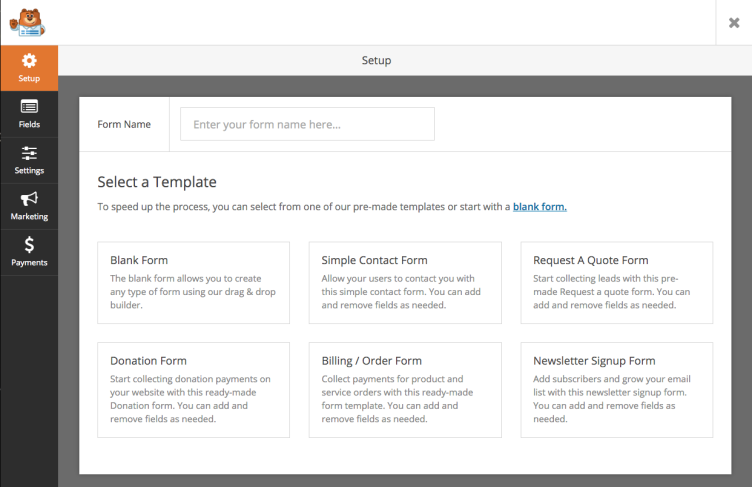 The first thing the user does when creating a new form is to choose from pre-built templates (contact form, newsletter sign-up, get a quote, etc… and more coming), which is a subtle but significant difference from traditional form building. And Syed and Jared are betting that ease of use will help them go after the competition. And they have their sites set on one plugin: Contact Form 7.
With millions of active installs, Contact Form 7 is the opposite of beginner friendly; but the plugin dominates the free market. Syed and Jared see a ton of potential in WPForms, and they think they can make a significant dent in the market. The power of WP Beginner's audience, Syed's various email lists, and a slew of helpful business/marketing connections won't hurt either.
WP Forms has a light version on the plugin repo that offers limited functionality, and the pro version unlocks features like additional templates, an entries administration interface, third party integrations, and developer-centric tools. Pricing for the commercial version starts at $39.
I mentioned in my PressNomics talk that "competition is coming" for historically low-competition markets. Forms is one of those. The form market is massive; nearly ever WordPress website needs some kind of form. But if you start listing off the well known forms plugins in your head, it's easy to run out of well known brands after one hand of counting.
WPForms is aiming for Contact Form 7. But it is a fun thought exercise to consider WPForms in light of some other options as well.
Commercial only Gravity Forms is the king of the commercial forms plugin hill, especially amongst developers and consultants looking to go the extra mile with forms. For instance, I did an entire survey with Gravity Forms in preparation for my PressNomics talk, and no other WordPress plugin can come close to that functionality. The plugin also has the advantage of having been around and been reliable for many years. Rocket Genius (the makers of Gravity Forms) are likely not seeing WPForms as competition right now. They are expanding their add-on marketplace greatly and have their sights set on bigger fish, like the hosted giant Wufoo.
Ninja Forms is a more direct potential competitor for WPForms, given the similar model of a free version with pro upgrades. Ninja Forms has skyrocketed in popularity, thanks to an accessible free version, and it boasts 300,000+ active installs for said free version. They are very near public launch on Ninja Forms 3.0, which completely overhauls the forms interface. Having seen the demo of 3.0 (also at PressNomics…. demos were constant there), it was striking to see how different the approaches are between WPForms and Ninja Forms. Ninja Forms is clearly going after folks that want granular control over every component of their forms. It's a slick new Backbone-driven interface, and the configuration power is obvious from the start, but it's definitely an "options" interface versus WPForms "decision" one. Ninja Forms blasted into a market that was ripe for takeover at the free level, and it will be interesting to see how Ninja Forms and WPForms fare against one another for users.
Then there are other forms plugins that have cut wedges of the market for themselves. Formidable Pro (also 300,000+ installs for the free version) and Visual Form Builder Pro (100,000+ for the free version) both come to mind. They are both good examples of just how much room is in the market.
Of course, if you search the WordPress plugin repo, you can find loads of other free form options. But when I think of what makes a compelling form product, it's as much the brand as the product. Form plugins need to be easy to remember, reliable for the long term, and be backed by solid companies. It's why Gravity Forms is so popular despite being commercial only. And it's why I think WPForms will quickly be a player in this market. A trustworthy brand and reliability long term are worth a great deal. And when you mix in Syed's ability to market the products he works on, I think it will be interesting to watch the forms race evolve.
Contact Form 7 is "dominant" by the numbers, but it has a lot of players that see that top spot on the plugin repo and are hungry for it. Ninja Forms has made the best run at it with a free option to date. It's reasonable (expected, really) that we should see more folks see the opportunity and join that race. It doesn't surprise me that Syed saw the opportunity, and he's probably not the last. The form market is a big one and there's no reason there can't be several successful products in it.
I'm excited to see the new ideas put forth by WPForms. I used it on a site already to test it out and it was just as easy as advertised. It'll be nice to be able to recommend a dead simple plugin to my friends that aren't comfortable with more complex options. And I have no doubt that existing form plugins will take notes from WPForms' UX. This is how products get better: innovation, imitation, evolution.