You can increase your chances of getting hired. While there's no get-hired-quick scheme that works every time for everyone to find their dream job, there are certainly some things that can help — from knowing where to look to how to follow up after an interview.
Anyone who has ever searched for a job knows that none of it comes easy. To be successful takes a little luck, but a lot more strategy. Being strategic in how you search for jobs, build your résumé, and interview can set you up for a better opportunity for a second interview, and, ultimately, to get hired.
Here's a list of 5 things you can do today to increase your chances of getting hired. Of course, there are more things that can help — and I promise to write about them in future posts — but here's a great place to get started.
Know the Best Place(s) to Search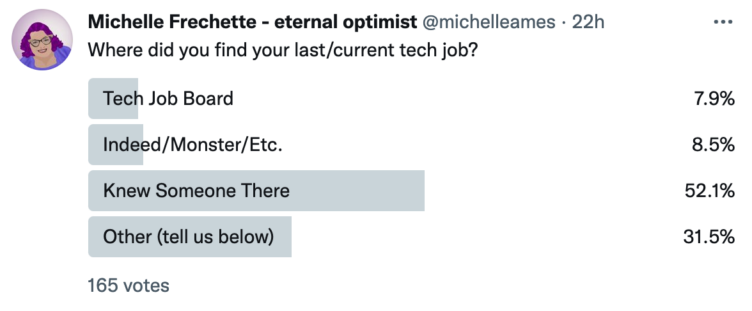 I ran a poll on Twitter asking where people found their current or last tech job. More than half of those responding said they knew someone at the company where they got hired. Over 30% either started their own company, started freelancing, saw the job posted on Twitter, saw a posting somewhere else, or were directly recruited. Fewer than 17% found jobs on traditional job boards.
I'm not saying don't look at job boards. Actually the opposite.
Look at job boards. See where there are companies hiring where you might like to work. Then see who you know or are connected to at those companies. Reach out. Ask questions. Do some research. Then apply. Knowing someone inside the organization may not get you hired directly, but it gives you an inside edge. You can ask that person questions about the culture, the job, and what they like about the company and what the challenges are.
Knowing someone truly helps. So make connections. Networking and membership organizations are really helpful in making connections, too!
Tailor Your Résumé to the Posting
Tailoring your résumé to the posting does not mean fabricating experience to meet the employer's needs. What it does mean is including and highlighting any relevant experience so that you show how you can meet their needs. This will increase your chance of getting hired.
Highlighting relevant experience might include adding events and projects to your résumé, emphasizing them in your cover letter, and making sure to talk about them in your interview.
Since the majority of tech recruiting happens online, you no longer have to worry about limiting your résumé to one page, so make sure to include relevant experience that showcases why you are the perfect solution.
Audit Your Social Media
Would you be happy to have a hiring manager review your social media accounts? Twitter? Facebook? LinkedIn? Instagram? TikTok?
Social media used to just be social. It was a place to connect with others as you would in person. Somewhere along the way that changed. Social media is public — unless you have some pretty heavy security settings in place. Because it's public, anyone — including hiring managers — can read and watch anything you've posted.
And just because you didn't give them links doesn't mean they won't find them.
So before you start applying for jobs, read through your social posts and delete any that are in any way inappropriate or complain about work at all. You want to make sure you're still human, so you can still have up and down days/posts, but you don't want any red flags, so no "bad boss or this job is awful" type posts at all.
And we shouldn't have to say this — but anything that shows illegal activity or drunkenness should also be removed.
Nail the Interview
Simple, right? 🙂
Here are some ways you can be confident that you did a great job in your interview. Increase your chances of getting hired by focusing on these things:
Be yourself. Don't present yourself stiffly or try to be something you're not. Dress appropriately for an interview and relax. Being relaxed will always present better, because you can share better when you are comfortable.
Be aware of your body language. Be aware of your posture, hand motions, and facial expressions. You can still be yourself, but be aware of how you're presenting yourself physically. Maintain eye contact — or the online meeting version of it. Don't try to multitask or get distracted by other things on your screen. Close anything you don't need for the interview to reduce any possible distractions. Be present with the interviewer.
Ask good questions. This is where your research and connections really help. Ask good questions — i.e., those that you can't answer yourself with Google or by searching your prospective employer's website. Ask about culture. Ask about an average day. Ask the interviewer what they like best about working at the company. These kinds of questions not only make you look more interested, but they will help you determine whether the company is a good fit for you and your goals.
Choose your environment carefully. Don't try to do a job interview from a coffee shop or other public place. It's OK if you need to sit at your kitchen table or in your bedroom, but make sure that anything in the background is tidy and organized. Invest in a bifold screen to put behind you if you can.
Follow Up Quickly and With Details
Follow up via email. A handwritten note is lovely, but it may not arrive in time to be a factor in a hiring manager's decision process. Following up via email is immediate and can increase your chances of getting hired by being fresh and showing interest and initiative.
Take an hour or two after the interview to write down some things that made impressions on you from the interview, and include them in the followup email. Include any additional questions you may have thought of after you disconnected.
Some things you can include:
Thank them for taking the time to get to know you.
Reiterate some of the points that struck you as positive reasons you'd want to work there. (For example, "I was really impressed by the way you said you recognize when team members go above and beyond their job description.")
Include any details about your experience that you didn't get to talk about. (Example, "I wanted to mention that when I did ______ project, I also learned _________, and I attribute that to my growth in my field.")
Wish them success in hiring the best candidate.
Be Confident
Above all, be confident. Have someone else proofread your résumé so you know there aren't any errors. Practice interviewing with others. Do whatever you need to feel confident when you sit down for the interview.
Good luck! You've got this!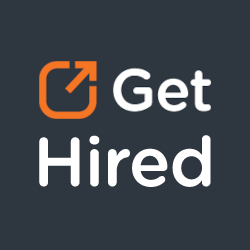 Get started today! Build your career in WordPress.Build your network. Learn with others. Find your next job. Read the Get Hired newsletter. ✉️ Listen to the Get Hired podcast. 🎙️ Follow @GetHiredWP. 🐦