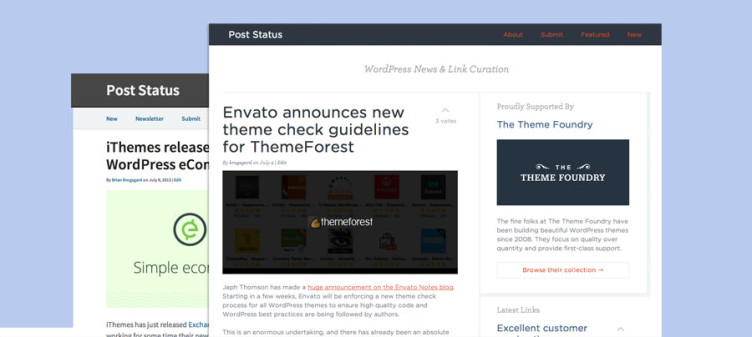 Post Status has been iterating quite a bit over the last six months since it launched.
However, not everyone noticed.
I'm excited to launch a redesign that reflects the changing purpose that Post Status serves. It started as a link blog, where I wanted to have a lot of input from readers to submit posts. Over time, the site has evolved from that. I realized that readers really preferred when I filtered content for them. I also received a great deal of positive reinforcement when I wrote long form content. And I discovered that I often wanted to say more than I could given room I allowed myself with only the link format.
So, I've slowly been writing more original content. I've also been more stringent as to what submitted content I approve, and I tend to add commentary to the links I post. The new design reflects this change, and more.
The new design
The latest link posts are now visible on every page in the large sidebar. However, the main home page column will consist of long-form content. I think this lets me showcase long form content for longer periods, while still offering a consistent daily feed of links. Hopefully this will help deliver the right mix of consistent news and further insight when it is merited.
I nerded out pretty hard on the fonts. I subscribed to the new H&FJ Cloud Typography plan and I'm rocking out Gotham Rounded and Archer on this site.
I also went a bit flatter, and restructured quite a bit layout-wise. Be sure to check out the mobile view too. The long-form content and the linked posts are both available easily, right from the top. No sidebar dumping here.
I hope you like the new design. I hastened my launch schedule by a couple of weeks due to unforeseen circumstances, so I'll be cleaning up bits and pieces over time. Your constructive feedback is welcome, of course.
Exclusive partnership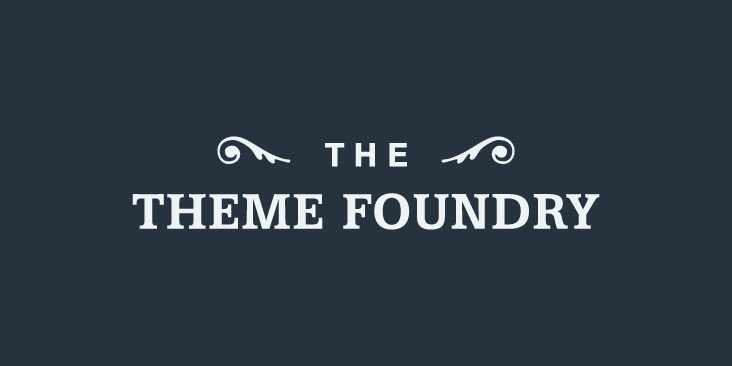 The second bit of exciting news I have is that I've entered an exclusive partnership on Post Status with The Theme Foundry. The Theme Foundry makes beautifully crafted WordPress themes, and they've done so since 2008. I've gotten to know Drew Strojny, The Theme Foundry's founder, since meeting him in person last year at WordCamp San Francisco; and we are very much on the same page as to what we'd like to see in a WordPress news source.
I believe in their product, and they believe in mine.
The partnership with The Theme Foundry is ongoing, with an initial term of 3 months. You'll see the elegant ad integration as a single banner on each page view. You'll also see material from The Theme Foundry integrated into the newsletter, which I plan to do regularly now, and also periodically in the RSS feed for long form posts. We tried hard to make it unobtrusive, pleasant and deeply integrated. I'm confident that The Theme Foundry and I have forged an outstanding partnership that sets the groundwork for the long-term monetization of Post Status.
Coming up
The redesign and the partnership with The Theme Foundry are both exciting things for Post Status. I'm in this thing for the long haul. And I've got (at least) one more trick up my sleeve coming soon as well. Within the next month, look out for a new written resource from Post Status that will be a no-brainer deal for many of you web developers out there to get in on.
And of course, I'll keep on posting about all things WordPress. And I welcome your submissions as well. I may not take them all, but if you think something is interesting, there are good odds I will too.
Will this ever be my full time job?
No. I think I best service this space when Post Status is a reflection of my other activity in the WordPress ecosystem.
I'm happily employed, and Post Status is a side project that my employer knows about and supports. That's not to say I'm not fully committed. I've written many hundreds of posts over the last three years, on various blogs, all with a full time job. And all that time, I never made a dollar blogging. The new monetization strategies will help prevent burnout and ensure the long-term sustainability of the site.
Will I ever make $10,000 a month blogging here? Probably not. But that's not my goal. Post Status is geared to be a nice income supplement, but my value here is directly and positively impacted by my consulting and WordPress activities outside of this space.
Finally, I ask of you a favor.
Do you like Post Status? You can do me no greater favor than tell your followers on your social networks and at meetups and WordCamps about it. And when you see a link or a post that you like, please upvote it and share it with your audience. Over half of the traffic on Post Status is from referrals, so every time you share, it makes me very happy, and helps others find out about this WordPress resource.
I hope you all have a great end to your week. Thank you for all of your support on this passion project of mine.