Envato has expanded the hosting program they began piloting last December, which I covered at the time. Now it's expanded from two theme shops to twelve, including several of the most popular authors on the platform.
Envato Hosted is now a flat rate of $19 per month to the buyer, and the theme is included with a new plan.
Authors get paid for their theme (at the regular price) by Envato, once the included seven day free trial is completed. Then, the author receives monthly recurring revenue for as long as the theme is in use on the user's website.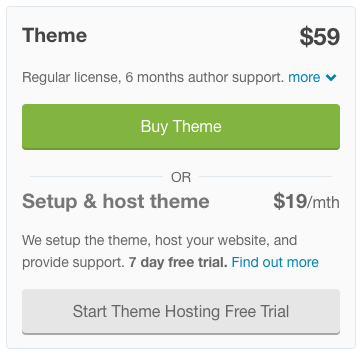 The recurring payment is either $1 per month — I believe for regular authors — or $2 per month for Envato Elite authors. I am unsure if the $2 level is limited to a certain level of Elite author; for instance, Power Elite requires $1 million in lifetime sales, whereas the base level Elite status is reached with $70,000 in sales. If I were guessing, I'd assume the $2 level is a higher tier, likely Power Elite.
The founder of Envato, Collis Ta'eed, tells me that if the soft launch goes well, then they'll, "broaden the program next year, and come to market with some stats about how people are using the product."
The hosting product itself is still a partnership with Pressed — the white label, AWS based managed hosting platform. Pressed has a custom setup for Envato.
The theme authors included in the program have accounted for more than 650,000 sales between them, totaling in tens of millions of dollars in revenue. Avada alone has nearly 280,000 sales to its name.
Hilarious aside: since my 2013 post — which at the time got quite a bit of attention —  where I called out Avada for being bloated, it has gone on to make an additional $15 million or so in revenue. At the time, it was close to $1 million. I really changed the world with that post.
Feedback from the Envato community has been mixed on the announcement thread. Many are peeved at the $1 referral. Indeed, at that level, you'd have to keep a customer on your theme for four years to match the most basic affiliate programs — or two years to match a typical payout even at the higher $2 per month. I'm sure Envato will consider feedback to try and make it equitable for everyone involved. Although I think some Envato authors just like being peeved at Envato generally. It's a tough community to wrangle.
Envato is by far the largest theme player in the WordPress world. Anything they do in regard to hosting will likely affect, at least to some degree, the rest of the market. And I'm really curious to see how adding a hosting offering will impact their overall customer flow.
One thing that excites me is that it may incentivize authors to not only market for a sale, but market also for retaining the user. After all, they only get paid after the site owner has reached the end of the seven day trial. If the site owner switches themes between purchase and the end of the seven days? I'm not sure. But both in that circumstance, and for the sake of keeping recurring revenue long term, it should add some market incentive to authors to improve the experience for buyers.
The price of $19 isn't cheap, but for managed hosting it's not that expensive either. I would assume Envato has run plenty of tests over the past year to fine tune that pricing level; that alone is an interesting thought, in terms of how it might impact other low and mid-level managed WordPress hosts' plans.
For millions of people, ThemeForest themes and WordPress are near synonymous. Envato is also taking another step in the direction of "owning" the entire experience, from initial discovery of "where to find a website template" to the published domain.
We are starting to see more narrowed experiences in the WordPress landscape.
It used to be quite common to buy a domain from GoDaddy, a theme from ThemeForest, and hosting from WP Engine (or pick your three favorite flavors of each service). Now, the biggest players are entering a battle to see who can capture the initial lead, and then hold on to it all the way through. Even beyond hosting, it explains GoDaddy's WP Curve acquisition a bit better too: if you already have them through to hosting, why not a maintenance plan that has the highest revenue potential of all?
Vertical integration is here, and here to stay. The question is, who will get squeezed out?