Envato has been testing a pitch for hosting since December 1st, and plans to roll it out on a broader scale in the new year.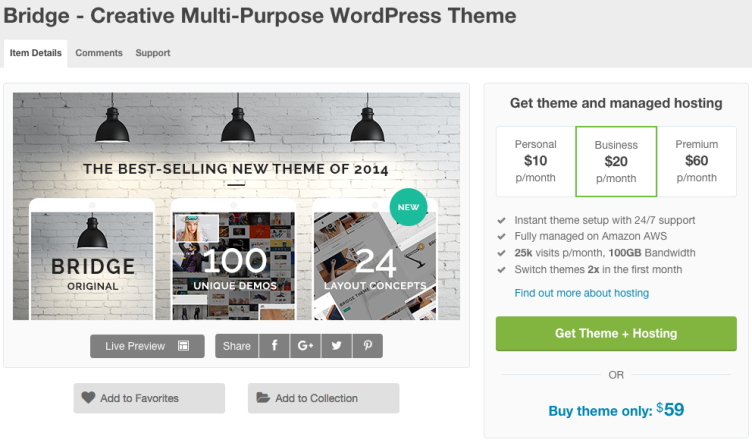 Two theme shops are running the hosting pitch now, Qode and Select-Themes. Buyers can see an overview of plans from one of the theme pages, with options for $10, $20, or $60 per month, and a link to a more detailed hosting page.
If a buyer chooses hosting, the theme comes free (with the option to switch in the first month if the first theme doesn't work out) and they can also choose a domain name with any plan for an added charge.
The hosting looked familiar to me, and it was confirmed to me that the test is being run through the white labeled WordPress hosting service, Pressed, a relatively new company started by Site5 founder Ben Welch-Bolen.
Pressed: white label managed WordPress hosting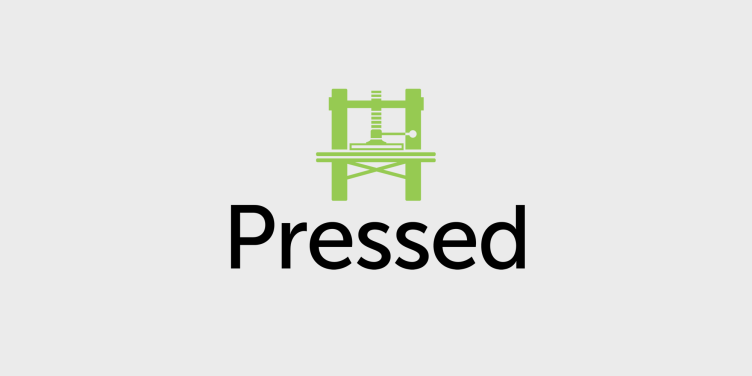 Ben and his partners sold Site5 assets to EIG in the fall for upwards of $30 million. At the time of the sale, Site5 had around 55,000 customers. Now, Ben and some of his former team are working on Pressed. They have been successful so far by white-labeling WordPress hosting, often for theme shops, but really it can be for anyone that thinks they can effectively sell a hosting product.
Their aim is to make their hosting plans accessible to any WordPress web developer or agency. They are working on an API that would make spinning up new instances of WordPress a simple wp-cli command, and all technical and support management would go through Pressed, while the agency handles the client relationship and takes a cut of the hosting fee.
Pressed is quite transparent with their plans, which are predefined for white-labelers to offer. Envato is offering the first three, but depending on the hosting brand's positioning, any of the following could be applied, as you can view yourself on their FAQ:
Plan One – 1 Site / 3GB Disk Space / 10k Unique Visits / 25GB Bandwidth

Minimum Retail Price: $9.95
At MRP the partner receives: $2 dollars a month for each plan sold ($24 a year).

Plan Two – 1 Site / 5GB Disk Space / 25k Unique Visits /100GB Bandwidth

Minimum Retail Price: $14.95
At MRP, the partner receives: $5 dollars a month ($60 a year).

Plan Three – 2 Sites / 10GB Disk Space / 50k Unique Visits / 200GB Bandwidth

Minimum Retail Price: $24.95
At MRP, the partner receives: $10 dollars a month ($120 a year).

Plan Four – 5 Sites / 25GB Disk Space / 125k Unique Visits / 400GB Bandwidth

Minimum Retail Price: $49.95
At MRP, the partner receives: $15 dollars a month ($180 a year).

Plan Five – 10 Sites / 50GB Disk Space / 250k Unique Visits / 750GB Bandwidth

Minimum Retail Price: $99.95
At MRP, the partner receives: $25 dollars a month ($300 a year).

Plan Six – 25 Sites / 125GB Disk Space / 625k Unique Visits / 1TB Bandwidth

Minimum Retail Price: $199.95
At MRP, the partner receives: $50 dollars a month ($600 a year).
Sellers have flexibility for pricing these plans, however, beyond the rates above. If they choose to sell them for more, or add other services, then Pressed can build that in. If the seller charges more for hosting, Pressed would get 30% of the difference between the base Pressed price and the seller's set price. So if the $14.95 plan were sold for $20 (like Envato is doing), then the seller gets the listed $5 per month, plus 70% of the additional $5.05, or an extra $4.17 per month. And if they also have other monthly packages attached — like a retainer or SEO plan or whatever — Pressed handles billing for a flat $5 per month fee. Hosting support is handled by Pressed in the base plans.
The fees may change over time and as Pressed introduces more tools to help sellers run their brands. Ben tells me they are still in beta with a partner control panel, but that it's coming, "in the next couple weeks." There is a control panel for customers, which is obviously customizable to the hosting brand.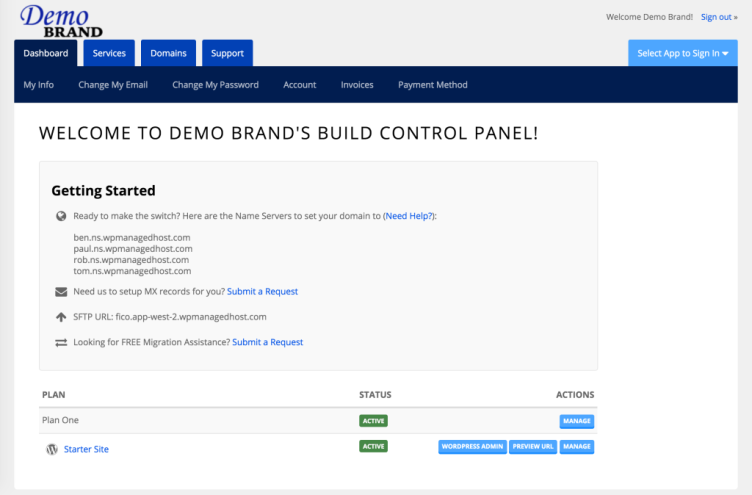 If you go through signup on Envato's package in the theme link above, you'll see the sales process, which is very smooth, as well as a link to the dedicated Envato Hosted login, which is an example of what a white-labeled Pressed account would look like.
Why Pressed is a good option for Envato, others
Such an offering eliminates most of the risk for anyone interested in offering hosting services, but not so interested in the excruciating minutiae of the hosting business technically. For Envato, for instance, it's a great option to create a more vertical offering without bogging down their team with hosting.
The infrastructure of Pressed is on AWS, which is now the go-to platform for most startups, and Amazon's technology is second to none. Pressed is definitely on to something with this product.
I asked Collis Ta'eed — co-founder of Envato — about their motivation for this product, and he said, "At the start of this year in our 2015 Roadmap, we talked about how this year we're focused on making content from Envato more accessible to people of any skill level." He said that in addition to new products like their Video app and Envato Sites products (links to go my coverage), "We've also been thinking how to make WordPress themes easier, and that's where this test for Hosted comes in."
Over time, Envato will explore a variety of upgrades they can include for selling hosting directly to Envato customers. With Pressed handling the backend and building out an API, Envato can make a variety of packages, bundles, upsells, and who-knows-what to cater to their buyers, and introduce new monetization lanes.
He sees this product as a solid middle ground between hosted services and professional web development:
WordPress.com does a great job of making WordPress simple for many types of users, and has very broad mass-market appeal. On the other end there are all the WordPress sites built by web professionals. We think there's an interesting market in the middle of savvy users who want to get sites up faster and with less fuss, and are looking for the kinds of themes and templates that ThemeForest's authors do so well.
I think there will be significant opportunities for Envato — and by extension Envato authors — within the WordPress dashboard, for instance. Collis made a similar statement to me: "Ultimately our mission at Envato is helping our authors earn, and we think this could open up a new channel for them, and by extension — us!"
A changing landscape for starting a website
Let's consider the three legged stool of big influences on WordPress that aren't Automattic: Envato, GoDaddy, and EIG.
EIG — the hosting behemoth behind Bluehost and many others — also owns the MOJO Marketplace. GoDaddy is actively working to build out a marketplace. And Envato — who runs the biggest WordPress marketplace by far — is now offering hosting.
So, the biggest marketplaces and the biggest hosts are all seeing the same writing on the wall: customers want and need one place to do it all. It's a clear sign of what we all understand: people do not want themes, they want websites.
How often have you explained to friends the difference between a domain, hosting, CMS, and theme? I know I have done so countless times.
What the biggest players in the WordPress market are doing is bringing a historically fragmented, complicated, and frustrating process of starting a WordPress website and integrating the steps into a single experience.
This is a very good thing, albeit one that could drastically change the WordPress landscape as we know it. On one side, starting a self-hosted WordPress website can be as straightforward as using one of many of these companies services. On the other, I think we'll see even more fragmentation of the WordPress experience itself as WordPress core has a smaller influence over what new users see when they install WordPress, because these companies will be able to change that experience drastically.
New opportunity for theme shops and WordPress businesses
Many aspects of this deal, and Pressed, are fascinating to me. The deal with Envato will help take Pressed from a well kept secret amongst a small group of theme shops, to a much larger market of folks looking to expand their business models.
Amazon has certainly brought technology to the table that makes hosting a WordPress website at scale easier, but that doesn't make it easy. There's a reason a company like Pagely is doing so well on top of Amazon. Pagely's customers could go straight to Amazon for cheaper, for sure, but they don't — because doing WordPress right isn't as easy as it sounds. Pagely — and Pressed hopes to join them in this category — is able to fine tune WordPress to make best use of an incredible underlying infrastructure.
And theme shops, agencies, and your average freelance web developer can all take advantage of that infrastructure too.
Agencies can more confidently offer hosting, theme shops can create an entire website purchasing experience skinned and differentiated by their designs, and freelancers can add relatively low risk, sustainable income to their services. I think a service like Pressed makes my vision of more hosted, SaaS WordPress businesses much more likely in 2016.
It's incredibly important that Pressed is managed, from the stack to the support. If support were not part of Pressed, it would not be nearly as appealing. But because Pressed leaves "only" the brand and the customer relationship to the seller, it makes it a very appealing option indeed. However, this relationship does of course depend highly on Pressed being good at the hosting and support components; and that is where they will either thrive or die.
If they thrive and do a great job, I think we'll see a lot of adoption from eager WordPress-based companies who want to try it out, like, but certainly not limited to, Envato.