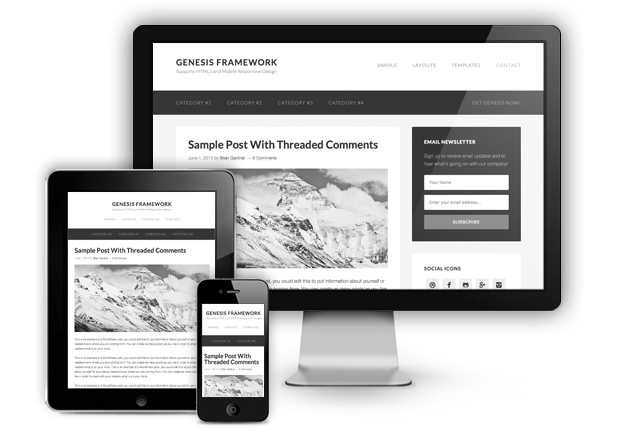 The StudioPress team has announced the launch of Genesis 2.0. This is a huge update for them, and they've been working on it for months.
Genesis 2.0 is responsive, and all child theme updates and future child themes will also be responsive. They've also done some really deep integrations for Schema.org microdata, which makes it easier for Google and other search engines to find and utilize specific sections of content to display in search results. Also, they've transitioned the theme to utilize HTML5 elements, with backward compatibility for older child themes.
You may think some of these features are nothing new. But it's a pretty huge step forward for a theme framework with this wide of an audience. And they need to keep the same considerations in mind for backward compatibility as core does, because not everyone will be able to immediately adapt to all of the new features.
The latest Sixteen Nine theme that's been released along side Genesis 2.0 is also pretty dang fancy.
I know I've been a bit critical of parent theme framework setups like Genesis before, but they certainly do a great job with the product they have. And they have thousands of advocates that vouch their product and the way they do business.
For users that are afraid of doing the updates to child themes themselves to be compatible with Genesis 2.0, there are a couple of update services available for those that need a hand. I recommend Jessie Peterson's GenesisConversion.com and Robert Neu's GenesisUpdate.com. You could also use Gary Jones' ebook guide to update. These are reputable folks, and the prices are cheaper than most developers would be for that small of a scope of work. Plus, they'll have it all streamlined to make it even better for your updates.
Kudos to the StudioPress team. I love seeing big iterations like these that bring a huge swath of the theme market up in quality.