Today you have an opportunity to help people that are using WordPress to help others. I hope you'll read this fully and consider helping.
Cystic fibrosis (CF) is a fatal genetic disease that has devastating effects on the lungs especially. Over many decades, treatment of Cystic fibrosis has drastically improved so that many CF patients today can live well into adulthood. However, they spend their lives managing their disease, often with drastic measures. Many CF patients require double lung transplants, and all patients spend their lifetime closely monitoring and treating CF.
I've been exposed to CF in two ways before I talked to Bowe Frankema. I first learned of CF when I made a friend in college that had a double lung transplant just the year before we met. More than ten years later, I hear he is still in good health. I also hear some about CF patients from my wife, who is a pharmacist at a children's hospital with a large CF center.
Somehow, I had never heard what Bowe shared with me: that due to the potential transfers of nasty bacterial infections, CF patients aren't supposed to meet in groups. In other words, they are socially isolated from those who are fighting the same battles they are fighting.
Fortunately, we have the internet
And that's where you all come in.
With WordPress, building a social outlet without physical proximity is quite doable! And it so happens that Bowe Frankema is a prolific WordPress and BuddyPress developer (you may have known that) and also lives with Cystic fibrosis.
Bowe is asking for our help. When he was young, he went to some of these CF camps (in person) that are no longer allowed. He remembers what it's like to have community with others battling the same battles he has.
Now that such events can't occur, he's putting his WordPress talents to work to build CFCommunity, an online, private community and social network for Cystic fibrosis.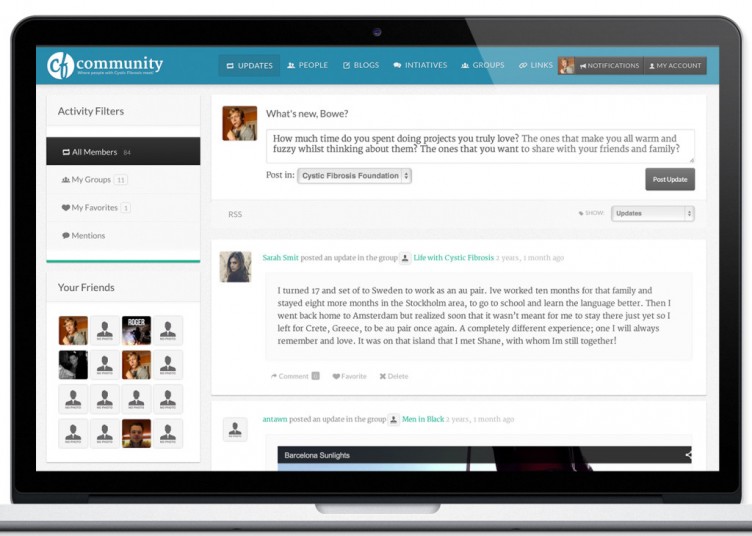 Bowe and his team need us to help fund this project. It's an ambitious undertaking, but one I think we can all agree has a wonderful mission.
Bowe shared with me what he hopes to achieve with CFCommunity.
I believe WordPress/BuddyPress is at the stage where it can do these things. With it's community, the maturity of the software and the resources available.

It's an amazing thing we can do this and actually have a real influence on the world outside the web. CFCommunity is an example of this, and I'm just happy I can make this happen (hopefully).
Watch Bowe's video about his story and CFCommunity here:
The campaign has just a few days left. The goal is still a ways off, but I know it is achievable. I encourage you to check out the specific page Bowe has made for his WordPress friends. The campaign itself is on IndieGoGo, but you should read the WordPress page first.
If it helps you decide to be part of making CFCommunity happen, you should know that there are ridiculously good perks from a number of WordPress companies that are helping Bowe make this happen. You can read about them here.
Let's make positive change
Join me in supporting CFCommunity. Not just because Bowe Frankema is such a good member of our community, but so that we can help him use WordPress to make positive change in the Cystic fibrosis community.