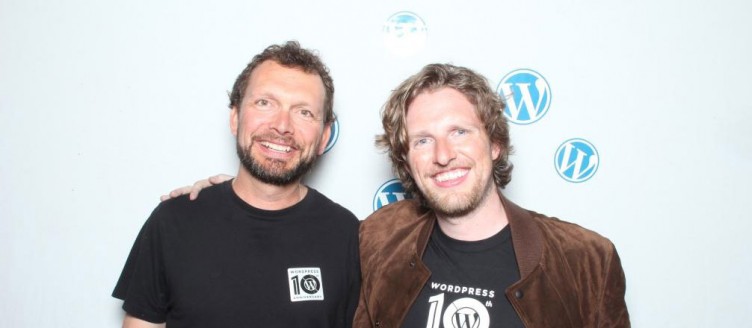 Matt Mullenweg and Toni Schneider are switching jobs at Automattic. After joining Automattic eight years ago, Toni Schneider is moving into a product-focused role within Automattic, and Matt Mullenweg is the new CEO.
Both Matt and Toni blogged about the change. Toni notes his confidence in Matt:
Matt and I have been working side-by-side, building and running Automattic over the years, and he is without a doubt one of the most talented people in tech today, so I have full confidence that Automattic will continue to thrive after we make this change.
Similarly, Matt praised the work Toni has done in the years they've worked together:
We have been through some incredible ups and downs in people, valuation, been on both sides of the table for acquisitions, and seen dozens of competitors come, go, and come again as the hyperactive tech news cycle loops back around.

[…] I've learned a tremendous amount from Toni over the years and I'm looking forward to putting that into practice.
Both articles quip that Matt is quite prepared for the role, now that he's no longer in his twenties (his 30th birthday was just two days ago).
What swap means for Automattic
What the change means for Automattic long term is unclear. Both of them will still be with Automattic, and Matt also noted the fluidity between their roles all along, and that he filled in for Toni some last year when he was on sabbatical.
But inevitably their styles as CEO will be different to some degree, and it will be fascinating to see how both Matt and Toni move the company forward with this switch.
Toni has long been part of True Ventures, the VC that is most tied to Automattic, so his move to the product side of the business also makes sense. I'm excited to see how he stretches his legs without the daily running of the business as a part of his job. Similarly Matt understands how to maintain consistent evolution – having been the BDFL of WordPress itself for ten years now.
Automattic has grown up
Automattic has really grown up over the years. In the tech world, it is quite an underrated company in my opinion; few companies can tout the influence (with over 74 million sites running WordPress in the world) they have on the internet itself. They've proven that building applications on open source software can be profitable and scalable. They've helped pioneer the coming onslaught of companies enabling remote workers. They've acquired other startups (mostly) without killing them. They're successfully bridging the gap between WordPress.com and WordPress.org with long term investments like Jetpack. They've grown to a staff of well over 200, which is both large for a startup and tiny considering WordPress.com is now the 8th largest website in the world.
Automattic is a huge player in tech. Even if it's been a relatively quiet one compared to other companies that run websites of similar size (Amazon, Yahoo, etc). While Matt has noted before the company is not up for purchase, if they were it would no doubt fetch billions of dollars (hello no-revenue-generating Tumblr) and be extremely attractive to some of the biggest companies in the world.
WordPress, the software off of which Automattic largely builds its business, has entered its second decade. And Matt Mullenweg takes the reins as the new CEO of Automattic after eight years – quite mature for a startup – in addition to his role as leader of the open source project. I look forward to watching how both WordPress and Automattic continue to evolve under his guidance.