Andrew Nacin updated the WordPress core stats this weekend, and the update signals that WordPress and its underlying technology has better update adoption rates than was previously thought.
Thousands of new WordPress sites come online every day. Some others, though, stop pinging over time. The new data only reflects sites that have pinged api.wordpress.org within the last few months. There were also plenty of other inconsistencies in the data that we've been able to resolve, which has resulted in numbers we feel are more consistent and accurate.
I'm not sure exactly what the referenced "inconsistencies" were, but the drop in WordPress 3.0 usage especially is significant. If I recall correctly, there was a good deal of suspicion around that the 3.0 usage number was inflated for a long time — and it appears it's been corrected with these new numbers.
Here's an image of the pie charts from the WordPress Stats page, that reflects the new numbers: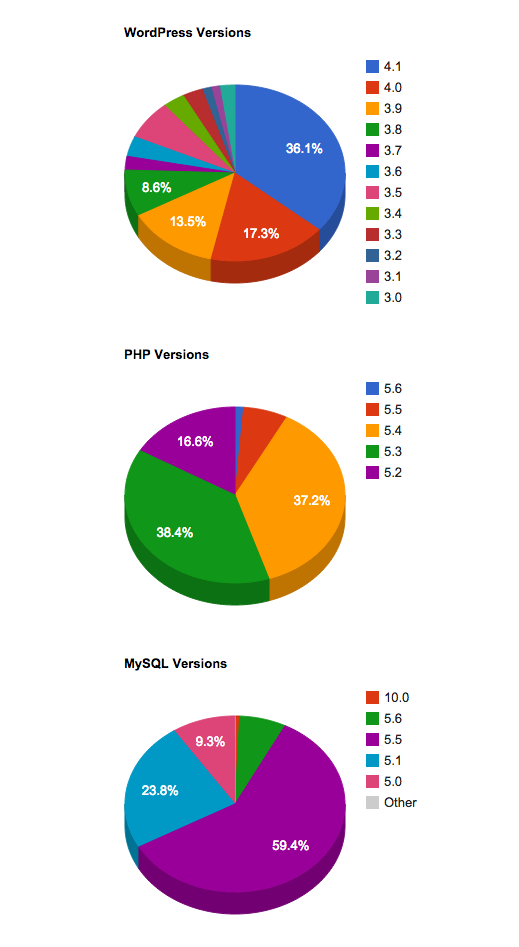 It's great news that we can now confidently state the over a third of WordPress installs are on the latest version. Also, the 15% decrease in PHP 5.2 usage is a big deal.
In his post, Nacin included tables with a full comparison of how the changes have impacted usage numbers for each WordPress, PHP, and MySQL version. These changes indicate that, while there is still much work to do, the mountain climb for broad adoption of newer PHP and MySQL versions isn't as steep as many thought it was.