I'm really excited to finally announce the Post Status Publish presenters. There are twelve awesome folks (plus me) ready to share their knowledge with you.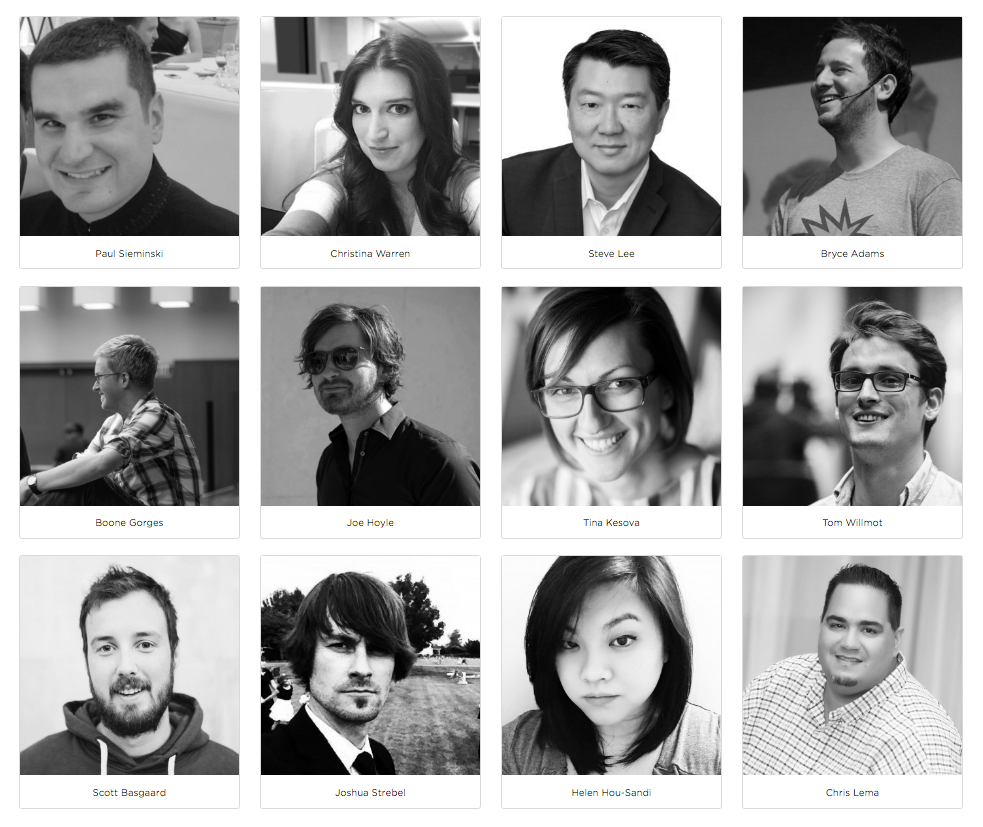 I have already said that I wanted to make Publish feel like the hallway track, and I think you'll see that in this format.
First off, only one or two sessions will have slides at all. For the most part, this event is about focusing on the content and what is being shared and discussed. In fact, folks shouldn't need to bring more than their phone or a notebook to this event.
All in all we have two interviews, two conversations, two case studies, two talks, and one live podcast.
The format for the day will go like this:
Joshua Strebel will interview Steve Lee
Josh co-founded Pagely, and Steve is an managing director at the investment bank, Bank Street, with a focus on companies that offer cloud computing, hosting, managed services, data centers and software-as-a-service. Josh is going to ask Steve all about the hosting business, the process of selling a business, what it's like, and what business owners should be thinking about.
Tina Kesova will talk marketing
Tina has been at the center of SiteGround's rise within the WordPress community. She's going to talk about marketing strategy and how they've penetrated the WordPress market — especially regarding the steps beyond initial exposure through event sponsorships.
Bryce Adams on building a SaaS
I've already raved about Metorik, even though it's not out yet. Bryce will offer his insights on what's it's been like to build a SaaS for WooCommerce metrics utilizing the WordPress APIs and webhooks, and will share what he's learned so far in the process.
Keynote interview with Christina Warren
Christina has been at the forefront of technology and startups for nearly a decade. She wrote at Mashable for eight years and recently became a senior writer at Gizmodo. She's always kept up to date on the WordPress world and has unique insights on how WordPress fits into the tech and startup landscape.
Helen Hou-Sandí and Gary Pendergast talk core WordPress
Helen and Gary will be talking about the WordPress core development process. This talk could go all sorts of directions so sit back and be ready, but it's not your average "how core works" discussion.
Chris Lema on product market fit
You've probably heard Chris speak to a general audience, but you haven't heard him like this. He knows this crowd is full of professionals, and he's got something special just for you. WordPress's best storyteller is going to help you find product market fit.
Paul Sieminski on WordPress and the law
Do you think  there's anything Paul will have to talk about? Hmmm…. probably. Paul is General Counsel at Automattic, and he's going to talk to Publish attendees about WordPress and the law and how everything fits together. This will be must-see for business owners and developers alike.
Tom Willmot and Scott Basgaard on running an agency
Tom and Scott once worked together, but today they both run WordPress-centric web agencies. Tom runs Human Made and Scott runs The Look & Feel. We'll listen in while they discussing the challenges running a small versus a large agency, and how they handle them.
Joe Hoyle and I do a live podcast
To close out the day, Joe and I will be doing a live podcast during the reception. We'll discuss the state of WordPress and who knows what else!
I hope that you're as pumped about this schedule as I am! If you want to go to Publish, don't wait to buy your ticket. Two thirds of available tickets are already gone.