"About time" is probably what comes to mind. Twitter has announced an official WordPress plugin to support their platform. It's available now on the WordPress plugin repo.
They just released the plugin a couple of hours ago. It's actually taking the place of an existing plugin, which was wiped from the plugin repo two weeks ago by Otto Wood. That's what will account for the 150,000+ downloads upon initial release. Otto has now reset the count in the database, so the numbers are more realistic.
I reached out to Otto to see how these decisions are made. Otto is one of the managers of the repo.
A twitter representative emailed us, sent us the plugin, and asked to have the "twitter" name in the directory. We reviewed the plugin as per normal, found no issues with it, and decided to give them the name because, after all, they are indeed "Twitter" and have the rights to their own name.

The previous plugin occupying that space had been inactive for a long period of time and had no real existing installations to speak of anymore. Additionally, the plugin had been closed for quite some time previous to that.

So giving them their own name is pretty much a no-brainer. 🙂
Techcrunch, and likely others, are misreporting the plugin's immediate popularity, as those numbers were largely from the previous iteration of the plugin.
Twitter's new plugin has a number of features, many of which have been implemented over the years by unofficial sources like Jetpack and Yoast.
For one, they have released "official" Tweet and follow buttons, along with a settings page for basic configuration.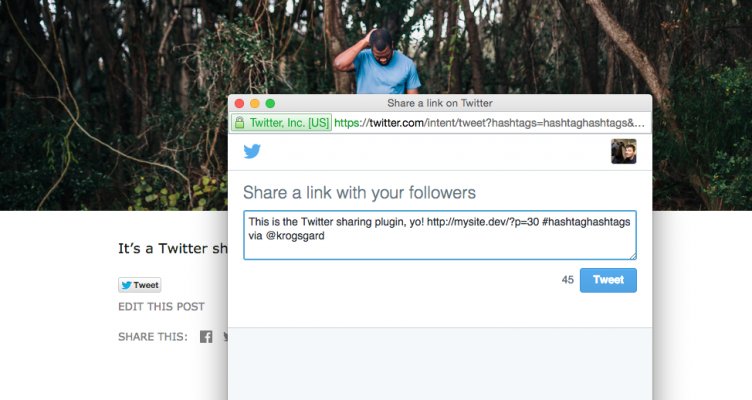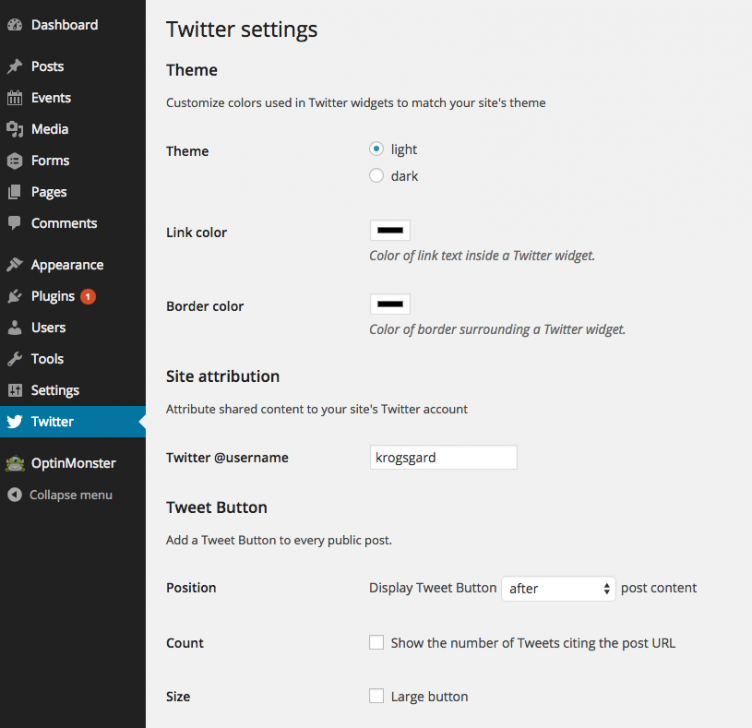 Also, there's a metabox on post edit that allows you to customize the predefined Tweet and Twitter cards, which is quite nice.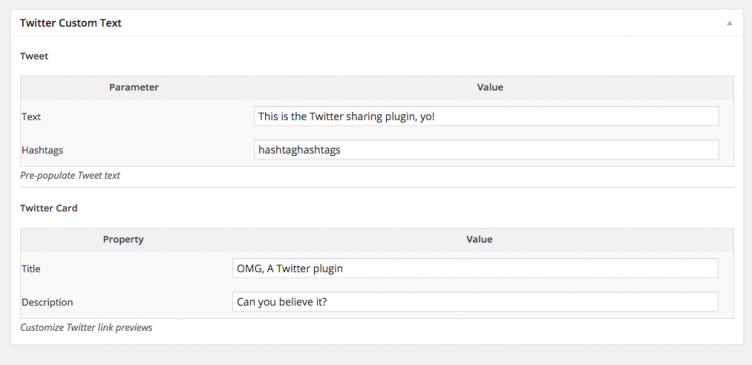 They also have the ability to customize the colors for embedded tweets inside WordPress content.
According to the Twitter blog announcement, there is also integration for Twitter ads and analytics tracking, which are both nice features for publishers.
The one thing I notice is not in this plugin is any authentication feature. Perhaps it'll come in the future, but right now you wouldn't be able to auto-tweet new posts or perform other actions that would require Twitter Apps and authentication on a per-site basis. This is the type of functionality that Jetpack has long performed, using the WordPress.com authentication.
I'm pretty happy to finally see an official Twitter plugin. The source code is on Github, and the plugin is released with the MIT license. At a very quick glance, it seems quite well done and I'm looking forward to playing with it some  more.