I learned about Ulysses from a TechCrunch article, and decided to test it out for myself.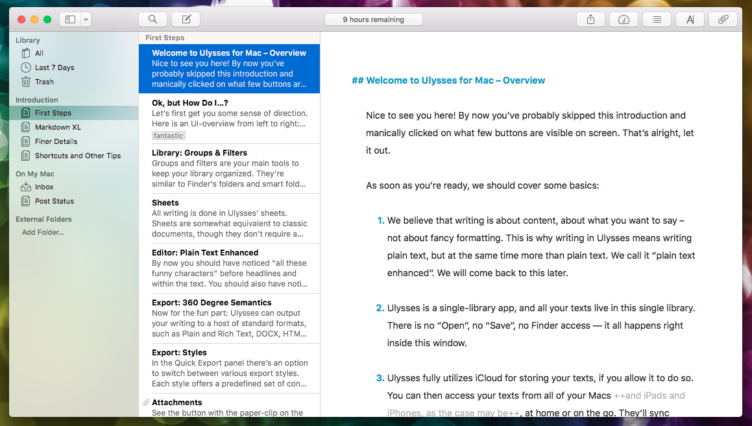 I'm about thirty minutes into the process, and so far I'm pretty impressed. It's sort of a Markdown editor, but they call it "plain text plus." It's got quite a few little nuggets built in, like a simple way to create footnotes, and some of the Markdown syntax isn't as confusing as it is in real Markdown (mostly thanks to keyboard and mouse shortcuts). And you can customize your flavor of Markdown for some stuff, like which method you use for emphasis and bold.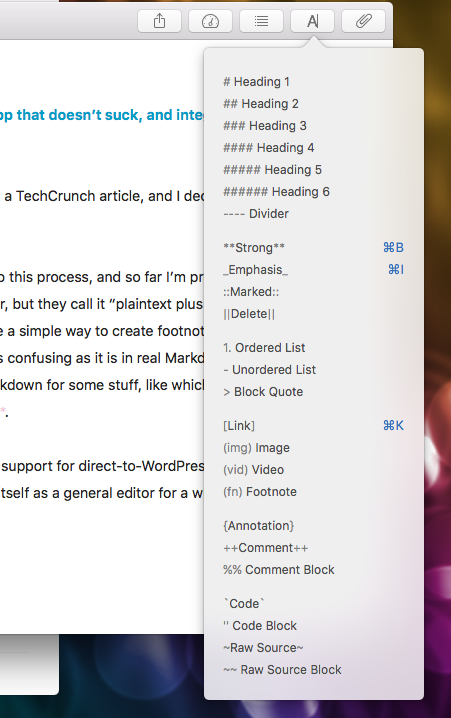 Ulysses only recently added support for direct-to-WordPress publishing, but it's been making a name for itself as a general editor for a while. It has a nice setup to be able to structure your documents thoroughly, into groups. Those of you familiar with Scrivener but hoping for something a bit simpler may enjoy it. And there are loads of keyboard shortcuts if you commit enough to learn them.
If you like Simplenote or other note taking apps, and find yourself (like I do) writing your draft blog posts in such apps, you might be a good candidate to switch to Ulysses — especially if you wish your simple note taking apps had just a bit more structure and features.
All that said, I'm not sure I would give it the gold medal for WordPress publishing, like the TechCrunch writer did. For one, the WordPress implementation is limited — as one would expect — to basic publishing of posts and built-in WordPress stuff like tags and categories. It does have featured image support, and in my test the whole publishing process worked just fine.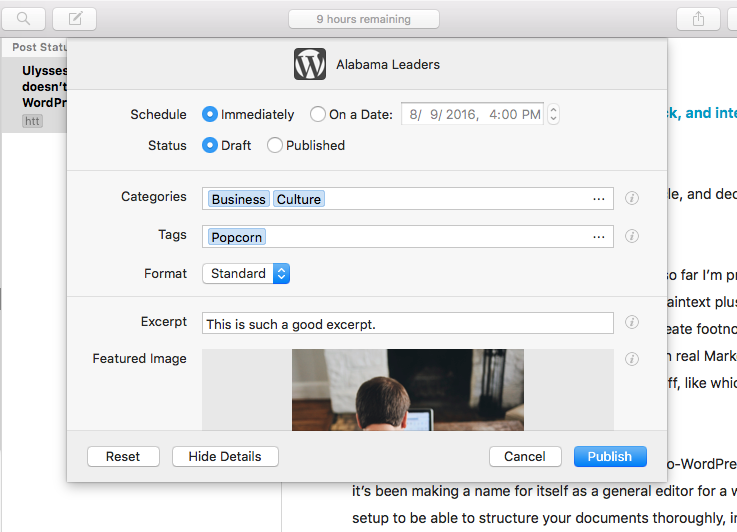 But if you want an external editor to break out of the blog format, this editor still doesn't do it. It should be high on any editor's to-do list to enable support for custom post types, custom taxonomies, and custom fields — even if it is the most basic kind of support. Lack of such features are always what bring me back to the native WordPress editing experience.
For instance, I can't publish this very post direct to Post Status because my day-to-day blogging is through a custom post type, and I attach custom taxonomies to that CPT. So while the editing experience is nice, I still end up in the editor for every post.
If you're doing "regular" blogging, Ulysses might be a great option for you. Still though, I'm not sure that it's any better than the WordPress.com desktop app unless you really get into more long form writing. The customizability of the writing interface, the keyboard shortcuts and markdown options, and the organizational capabilities make it really appealing for long form writing.
Since I wrote this initially, Jeff Chandler at WP Tavern also tried out Ulysses and reviewed it. I agree with him on something he said:
I enjoy the visual editor in the WordPress desktop application and WordPress itself. Only when I use other editors do I realize how many features I take for granted with oEmbed being the best example.
While oEmbed isn't the feature I personally miss most, it's the other stuff in the WordPress editor I love — especially new stuff, like how you just paste a link onto highlighted text and it works, and the "markdown style" syntax for inline writing text patterns. The rest of the screen in the WordPress editing experience, I could do without; and that is what Ulysses, by its nature, gets out of the way.