Why lament the loss of a declining statistic?
Writing in the Ellipsis newsletter early this week, Alex Denning floated the idea that "WordPress.org growth charts might not matter." Why? Alex writes:
Our experience is that freemium is an inefficient and ineffective channel for the average WordPress product.

You need very significant scale to make free a better marketing channel than the alternatives, and unless you already have that scale you're probably not going to get it.
Alex also cited WP Trends Q2 2022 data on the number of free plugins newly added each year at wp.org with 100k-500k, 500k-1M, and 1M+ installs. Viewed over 15 years, the market peak appears to have been reached in 2014, although the middle and upper tiers have had a more level and wave pattern of ups and downs beneath the dramatic rise and fall of new 100k-500k install plugins, at least between 2007-16.
A "Closed Shop"
In 2019-20, only four plugins entered the space and broke into the upper tiers. These were Site Kit for Google, Facebook for WooCommerce, Creative Mail for WordPress and WooCommerce, and Google Ads and Marketing by Kliken.
The 100-500K+ products are in a position to get their own customer data and analytics, so active install data from .org doesn't matter as much to them.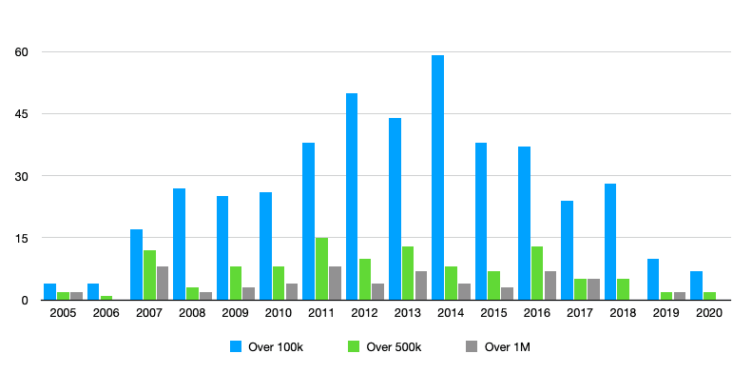 How is it Possible to Break In?
People looking to break into the market with a free product distributed on WordPress.org "have to do a phenomenal amount of work," according to Alex:
You'll need to have an incredible product, and then support it with a mix of content, SEO, social, partnerships, etc. You then have to convert those users at ~1-2% onto your paid offering.

Given all the work you're doing to get the free installs, and then to convert 1-2% of those free users to paid, you're almost certainly going to have a better time going straight to paid, focusing all your efforts into activities that help people discover your product and immediately convert.
Alex describes the WP.org plugin repo as a "closed shop" now with a few exceptions that make sense as a freemium product:
Anything in a crowded category, like Forms.
Anything that can leverage many marketing channels.
Anything that can leverage hosting partnerships.
There's also the WooCommerce market.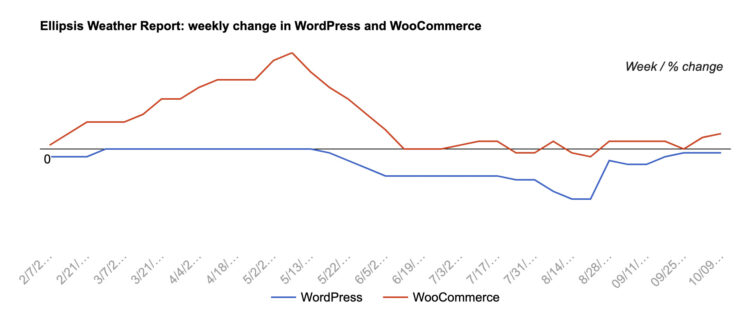 Largely based on search volume analysis, Ellipsis' 2022 "weather data" within the larger climate systems of WordPress and WooCommerce indicate WordPress is struggling, but WooCommerce is showing its best growth since May.
Or, Change the System from Within?
If a more diverse and open ecosystem is preferred, Alex suggests the plugin repository's search algorithm needs to do more than reward plugins with high active install counts — like "a 'rising star' label." He notes "this is a short-term commercial, rather than a long-term ecosystem view."