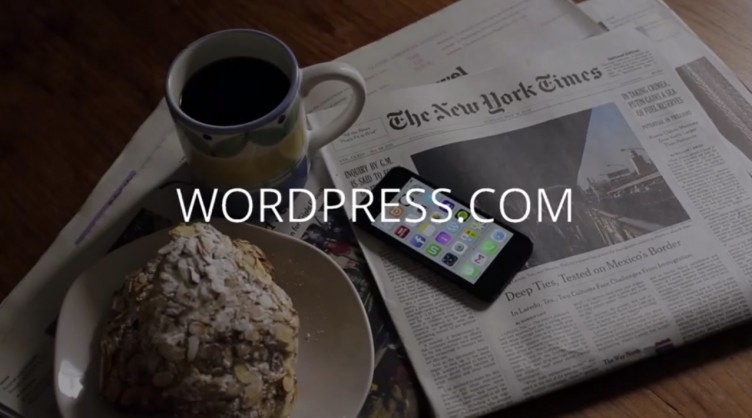 WordPress.com has released what appears to be their first ever video ad, and it's quite mobile centric.
The ad portrays a number of users using the WordPress mobile app to snap and blog pictures. It's only 16 seconds, and is (unsurprisingly) to the tune of a Childish Gambino song, the artist whose Deep Web tour they have sponsored this year.
Here's the video, entitled "Welcome Home":
https://www.youtube.com/watch?v=MfW2UJMIQvQ
I have to admit, I am a bit surprised that the only representation of WordPress and WordPress.com is through the mobile app. That's a strong nod toward their overall goals and focus. Or maybe it's the first of many ads. I don't know.
Hilariously, I don't even know who to contact at Automattic to ask questions about marketing efforts like this, because they've really never done any. Even their existing advertisements seem to be at the whims of Matt Mullenweg (like sponsoring Childish Gambino) as much as any particular Automattic customer acquisition strategy.
This is in great contrast to the company that is likely their most direct competition: Squarespace. Squarespace spent millions for a single Super Bowl spot last year and they also advertise regularly on TV, radio, and podcasts. They even announced a marketing budget of $40 million for their "A Better Web" campaign, an absolutely staggering number.
Squarespace is a commercial, proprietary CMS, but they definitely play in a similar space to WordPress.com; and it's intriguing to see Automattic at least dip a toe into some form of organized video advertising.
I have no idea if this ad or others will be running in online web ads or perhaps on TV at some point, but the focus on mobile is fascinating and the fact they are doing an advertisement at all is noteworthy.
Automattic raised $160 million this year, in part, to enable them to make big moves like a big marketing campaign could be, though I'm unsure a marketing budget was a direct need for the round. In Matt's personal notes about that Series C round, he even said, "WordPress is in a market as competitive as it has ever been, especially on the proprietary and closed side." A comment like that, and a move like this (if it evolves past a simple video ad), could make sense together.
Automattic is now a big company, with big money. The Series C round noted above put them above a $1.1 billion valuation. They are growing in every way it seems. Mullenweg has stated in a couple of interview they are seeking to be a 2,000 person company (they are currently less than 300), and revenue must be growing to support those employee investments.
Maybe a video like this is the first sign that they are getting into the big leagues with their marketing efforts too. Or maybe I'm reading too much into a 16 second ad, but I don't think so.