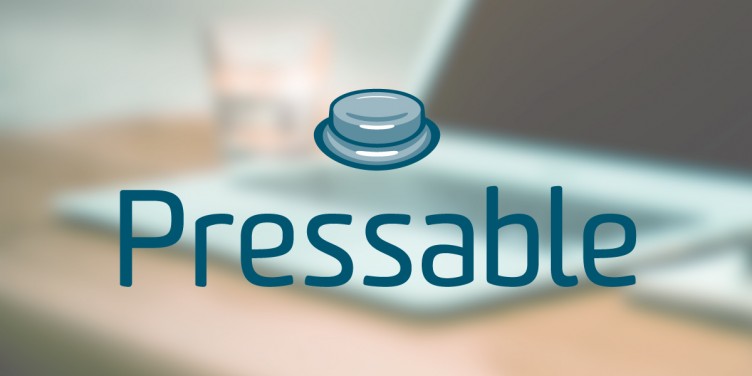 ZippyKid is a managed WordPress host that's been around around three and a half years. They have grown their business consistently since their launch in May 2010, and today have a number of high profile blogs and corporate profiles as part of their client portfolio.
Vid Luther, founder of ZippyKid, has been a PHP consultant and performance engineer in the hosting industry since 1998. I've met Vid a few times now, and we've also stayed in touch online the last couple of years. His technical savvy and understanding of the market is very evident when I talk with him.
ZippyKid has a solid hosting product. But hosting isn't all about your product. It's a competitive industry, and even the WordPress managed space has started to get crowded with options that are often tough to differentiate as an outsider. Being a solo founder with a very strong technical background, marketing and messaging has not been Vid's forte. He's admitted this openly on sites like Quora.
To date, ZippyKid has successfully grown from nothing to over 1,200 customers and a nine employee company (plus two more starting soon). That's a net growth rate of about one customer every day. They are profitable and their burn rate is low, meaning they've made efficient use of funds raised from their outside investors.
They've experienced consistent, linear growth over a sustained period. Their growth pattern has allowed them to invest heavily to serve existing customers well while onboarding new customers. Rackspace, the largest hosting company in the world, provides the data centers and networking infrastructure for ZippyKid/Pressable and their customers. Rackspace bought one of the hosting companies Vid was the lead systems administrator for in 2003. Since then he's been close to the senior leadership at the $5.8 billion company.
Some of the original founders of Rackspace are investors and have an advisory role in the company.
I got to see Vid as he came out of Rackspace with the expertise he needed to attack this [managed WordPress hosting] the way it should be… it is not just technology, its about service expectations. If you don't deliver it in a way that can be consumed it doesn't matter.

– Dirk Elmendorf, Founder of Rackspace
ZippyKid is now Pressable
ZippyKid's next step in their growth is to rebrand and restructure some of their business. They are changing their name to Pressable and restructuring their hosting plans to better serve existing customers and market to new customers.
The change to Pressable was a tough decision, but one Vid felt was important. I talked to Vid about the change, and he said the ZippyKid name caused confusion, especially for some of their enterprise level clients.
Pressable is better suited to be more clearly WordPress centric, and also plays on a physical button-push concept. The idea is that working with Pressable is as easy as pushing a button. They've even integrated a button as the mark of the new logo.
One thing I really like about the rebranding to Pressable is that they worked with members of the WordPress community to make the change. Designer and consultant Erik Ford is responsible for the Pressable site design. Thomas Griffin, who you may recognize from his Soliloquy and OptinMonster products, built the new Pressable.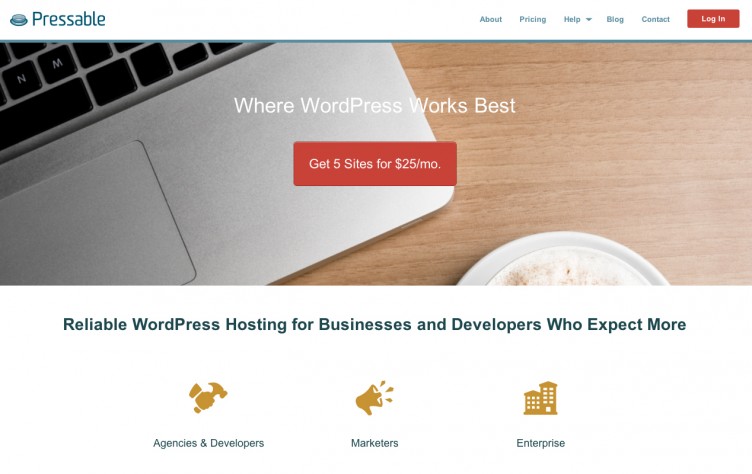 Changes to Pressable hosting plans
Pressable is keeping their base level plan around $25 per month. But instead of a one-site limitation that allows relatively high pageviews (around 100,000 per month), they're now allowing these customers to have five websites on the lower plan. They are also bumping up the number of websites allowed on their midlevel plan ($45 / month) to ten from five. The top tier basic plan allows twenty sites for only $90 per month.
Part of the goal for Pressable is to broaden the type of customer they appeal to. For the last few years, they've primarily marketed to site-owners themselves. And they'll continue to do that. But they've built a number of tools and features that are helpful for developers, and they want to better position themselves to serve people that make and maintain websites for other people. Their new plans do that.
For customers that manage dozens of websites, the new pricing methods could as much as halve overall costs, while not sacrificing quality.
Talking to Vid about the change, he insists the change isn't purely a price cut. And technically he's right. It's more of a shift. Now the twenty site plan has the 100,000 pageview limit the old one-site plan had. And instead of asking customers to pay for unused resources because they want to add a site, now customers can get more sites as long as they stay within allocated resource levels.
Vid also re-affirmed that while the resource limits exist, they have no intention to gouge customers in any way during traffic spikes or unexpected resource usage periods. Their "enforcement" will be more based on Pressable employees manually nudging customers to new plans based on consistent evidence that they need them.
Enterprise and high-profile plans
One type of customer that Pressable has historically done really well with are enterprise-level companies. Some of their customer base will be visible soon in their upcoming showcase section, but includes the likes of 500 Startups, Whirlpool, and Estée Lauder.
Pressable was able to get some of their high profile customers by being willing to do just about anything to solve problems potential customers came to them with. Based on my conversation with Vid, some of their onboarding processes were highly catered to specific clients, and lasted much longer than you'd ever anticipate for such an established company. It's part of what I like about Vid and the bootstrapped mindset in general: that good customers are the most important thing to business and providers should always go the extra mile to make the right customers happy.
One of the things they've discovered though is that not all of those customers they've worked hard to onboard have been the right customers. Sometimes they get customers that want the world for very little. One way they are handling this moving forward is to introduce a policy to require their top tier customers to maintain retainer relationships with developers, have in-house developers, or at a minimum be submitted to periodic third party code audits. They know they could lose some customers with this policy, but they think the ones they keep will be the type of customers they want and see as the best fit for their enterprise level plan.
The first tier enterprise plan is $750 per month, requires a code audit, and allows over 1 million pageviews per month. The second tier enterprise plan offers a "Private WordPress Cloud" and costs $3,500 per month.
Customer happiness and transparency
When I talk to Vid, I'm always refreshed by his openness and transparency. He's a heads down type of CEO, and in my opinion, they haven't always done a great job talking about and marketing what they do well.
One of those things that they are proud of, and are trying to share, is their customer happiness numbers. They monitor a bunch of metrics on support and customer happiness, and in an effort to make that data transparent and visible to potential customers, they've launched smiley.zippykid.com. This microsite is, in Vid's own words, a blatant ripoff of 37Signals' version.
Another example of transparency and their desire to share back with the community is their openness with their code on Github. A good amount of their code they run Pressable with is available for free and for forking on Github. Some of this code could even be ported and used by competitors, like their handy SmushKid image optimization script.
I love seeing efforts like these to be transparent and open, both with internal things like customer happiness and code sharing. It's refreshing to see a hosting company, an industry infamous for poor support and always trying to edge the competition with any advantage possible, be so open and transparent as Pressable.
Nothing is a silver bullet
As I reflected on my conversation with Vid Luther, I sat back and thought about what I think these changes could really mean for them. The answer is that I don't really know. I think these are positive changes. The new name is brave. A ton of effort goes into getting your name out there, so changing it entirely is a bold step. But I think in this case it makes complete sense.
Their plan changes and their other efforts are logical, but it's hard to say that any of them will be silver bullets to drive growth and long term success.
I like Vid Luther and I like Pressable. I think they have a high quality product. I like that their growth has been consistent and linear. There's an attractiveness and a level of comfort to that in my opinion, that if I were a customer of their's, I wouldn't be afraid they would suddenly be too big or too corporate for me. It's probably tempting for them to look at competition from established players like WP Engine and Pagely, and analyze how they fit into the market compared to them. It's also tempting to constantly look over your shoulder as new and intriguing competition like Flywheel come along.
The self-hosted WordPress market is a good one to be in. There's plenty of room for innovation in managed hosting, and so far managed hosts haven't been plagued by price wars or shrinking markets. The market as a whole is growing so fast it makes it tough to even make sense of it as a finite one that is split into shares.
Pressable has a chance with their rebranding to also reimagine how they fit into the market. Their future is in their own hands, and what they do and where they decide to shift their service as the managed hosting market matures will be fun to watch, and I think they've made these changes at a good time. It could be a very different landscape one, two or five years from now.