This acquisition is an important milestone for Automattic, validation for the bootstrapped WooThemes, and will be hugely impactful on the WordPress economy as a whole.
The history of WooThemes and WooCommerce
WooThemes was started in 2008 as one of the first commercial WordPress theme shops. It quickly became popular and paved the way for hundreds of shops to follow in their footsteps.
With the leadership of Adii Pienaar and co-founders Mark Forrester and Magnus Jepson, WooThemes did a ton of interesting things over the years, and dominated the market with a handful of other shops. They launched WooCommerce in September 2011, in the middle of the commercial theme heyday.
WooCommerce's origins are a hot mess and a long story. WooThemes worked for a long time to develop, with partners, their own eCommerce solution. After numerous failed attempts and false starts, they hired Mike Jolley and Jay Koster full time, and forked JigoShop after acquisition negotiations broke down. Jigoshop is a product that Mike and Jay built as freelancers for JigoWatt, but has since been sold off to another consulting company.
Mike and Jay were, and are, the heart of that eCommerce plugin — the one we know today as WooCommerce. Under their stewardship, and dozens of other full time and part time contributors — mixed in with outstanding marketing, perfect timing, and a lack of modern competition — WooCommerce took the WordPress world by storm.
They pioneered the extension model for paid add-ons. They put all doubters to rest over and over again. They made mistakes. But they kept at it, kept working, kept making it better. And soon enough, they took the eCommerce world by storm too.
In a short period of four years, WooCommerce has gone from a struggling concept, to a fork, to a remarkable open source commercial software success story.
I've had the privilege of following WooThemes since around the time they started, and have gotten to know the project and their team even more closely since the very early days of WooCommerce's launch. In this post, I bring my analysis of the company based on those years of my watching them grow and interacting with them, and hope to share what the acquisition by Automattic may mean for the future.
Why WooCommerce is attractive
On the surface, it may seem to many that Automattic was the obvious choice to acquire WooCommerce.
After all, they need eCommerce support for WordPress.com. As Matt Mullenweg shared with me, they, "have a ton of demand," for eCommerce from WordPress.com users. Acquiring WooCommerce gives Automattic access to the largest single group of eCommerce stores in the world.
One of many options
But Mark Forrester and Magnus Jepson — co-founders and owners of WooThemes — could have gone many other routes.
WooCommerce is big enough, and has enough brand power, to have attracted significant venture capital investments, as well as suitors from well outside the WordPress space — suitors like MasterCard, eBay/Paypal, Amazon, or Yahoo.
There are 1.2+ million active installs of WooCommerce. They have a nearly 20% eCommerce marketshare of the top one million websites, and over 24% eCommerce marketshare of all websites.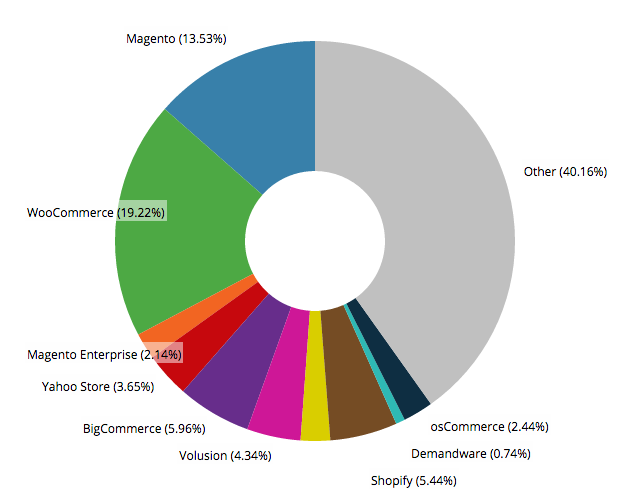 The plugin has had rapid growth over its short four year existence, making it a ripe target for the right buyer.
A natural fit
WooCommerce's popularity has largely been due to the fact that it's available on WordPress. WordPress makes WooCommerce an attractive choice for websites that need bolt-on eCommerce.
One of WooCommerce's greatest opportunities for growth is for customers that are eCommerce first, other-parts-of-the-website second. It's gaining ground quickly as both WooCommerce and WordPress gain further respect for usage on websites of all sizes and scopes.
All of these factors make WooCommerce an attractive choice for Automattic. Automattic's team knows, understands, and contributes greatly to the WordPress project. A shared reliance on WordPress core makes a WooCommerce and WordPress.com integration simpler. And 55 talented, eCommerce focused employees makes for an inviting addition to Automattic's relatively small workforce.
18% growth in Automattic employees
Bringing 55 new people on at once swells Automattic's ranks by around 18%, bringing them to over 360 people. Recruiting is not easy. This gain of talented people, in a single fell swoop, should not be underestimated.
But there may be some challenges integrating the two teams. This is, by far, the most people brought under the Automattic umbrella in a single acquisition.
Team integration
WooThemes' theme division and team members will join Automattic's theme team, and it's my understanding that WooThemes support will join the Happiness team at Automattic as well.
WooThemes has long battled a significant support burden, even before WooCommerce came along. With the demands of supporting eCommerce software that can conflict with nearly infinite plugins, themes, and hosting environments makes support expensive. As long as WooCommerce offers paid self-hosted products, this support will need to be managed.
WooCommerce will certainly benefit from the developer resources at Automattic. Matt told me, "lots of folks at Automattic [are] interested in working on eCommerce." From code audits, to fresh eyes, to more seasoned developers, Automattic's team will be able to have an immediate impact on the WooCommerce product line.
Merging management
One aspect I don't know much about yet is in regard to WooThemes' middle management. Mark and Magnus own the company, but there is a four person leadership team beyond them:
Joel Bronkowski, Chief Business Development Officer
Warren Holmes, Chief Marketing Officer
Matty Cohen, Chief Product Officer
Michael Krapf, Chief Happiness Officer
Furthermore, there are product leads for WooCommerce, Sensei, themes, and other elements of WooThemes' business. As a company, WooThemes is probably as hierarchical as Automattic with six times fewer people.
I anticipate some managers may merge into other Automattic teams under new roles, or play a part in sub-teams of sorts, which is (I believe) how Jetpack works now that it's such a big team.
Already distributed
WooThemes is already distributed across five continents and perfectly accustomed to remote work. While they have an office (WooHQ) in Cape Town, South Africa, it's a "come as you please" environment, similar to Automattic's San Francisco space.
Joining Automattic will be a much cleaner culture fit than other potential buyers would have been. Some team members will naturally leave or integrate to other roles, but the overall gain is a huge win for both organizations.
The likely end of "WooThemes" as a name
WooThemes is a staple brand of the WordPress ecosystem. They've been around since 2008 and probably have the biggest single brand presence after WordPress itself; I'd argue the name is more well-known than Automattic, or even perhaps ThemeForest.
For all practical purposes, I believe the name WooThemes will be retired.
WooThemes has previously considered a name change to reflect the change in their business focus, but have not done it. Under the umbrella of Automattic and WordPress.com, there is really no need to carry on the WooThemes brand.
I'm told the decision to change the name of the website hasn't been officially made yet, but it makes no sense to me to keep WooThemes. I'd expect the website we see at WooThemes.com to before long be simply WooCommerce.com.
They better keep Hiro, the Woo Ninja though. I love that little guy.
The WooCommerce business model
The WooCommerce business model is built largely on paid extensions that offer additional eCommerce functionality, updates, and support.
The current extension model
WooThemes lists a whopping 346 paid and free extensions on their website, about 150 of which link to third party sites. The remaining 200 or so extensions are either developed in house or in partnership with third party developers, but sold on WooThemes' website. There are also dozens, if not hundreds more, distributed plugins by other vendors that are not listed.
Companies like SkyVerge and Prospress have built their businesses on WooCommerce extension development. If the model were to change drastically, it could have a great deal of impact on them and similar companies or solo developers.
Third party developers have been told that life will be business as usual. In an email to strategic partners, Joel Bronkowski said, "There are no plans to mess with the magic sauce strategy that has brought us this far."
A conflict of ideology
However, the model of paid plugins is also counter to Matt Mullenweg's often stated beliefs for what commercialization in the WordPress plugin space should look like.
I asked him to explain how his mindset has changed in regard to paid plugins that charge for support and updates. Paid Automattic plugins, like Akismet and VaultPress, are based on SaaS models.
He says that his view has not changed. He told me that one goal with WooCommerce will be to determine, "what services provide the most value to people over a long period of time." He also noted that such a question is due to the fact that many WordPress product sales are one-time.
I found his sentiment curious. He didn't directly answer the question about paid plugins, which isn't too surprising. It's impossible to imagine Automattic doing away with paid extensions in the short term, but there are serious threats to third party developers in the longer term, I believe.
Expansion of partnerships with larger corporations
WooCommerce has spent a lot of time doing business development over the last couple of years. Last summer, their leadership team went to Chicago for a big eCommerce conference and had a whole new world opened up to them.
Joel told me they, "still have a lot to figure out in terms of the road ahead, but [we are] incredibly excited about what this means for us in terms of product development, partner opportunities and for WordPress powered eCommerce."
Under the wing of Automattic and in the future WordPress.com, I think WooCommerce will be able to further leverage their position in the eCommerce market with big payment companies and other potential corporate entities.
Potential changes to the business model
I would guess that a gradual change in business model will occur over the next several years, especially in regard to extensions. WooCommerce has a dismal 17% renewal rate for extension purchases. This is a number that needs to improve, or something should change.
It may make sense — and I'm shocked I'm saying it — to make WooCommerce more like Jetpack.
If I were at Automattic, I would encourage the two teams to brainstorm and evolve together. I think a model where a credit card is connected to WordPress.com, and extensions (free and paid) can be easily activated from within the admin makes sense. It would require a lot of change to existing UIs and development infrastructure, but it could also drastically improve what is often a convoluted method for site management with so many add-ons being independently managed.
If we take the potential even further: imagine the VaultPress model of instant syncing, data tracking, and backups being heavily integrated into eCommerce stores. Such a system could be part of a monthly fee.
Extensions also don't have to be piecemeal, or the "nickel and dime" method. Automattic could make WooCommerce a tiered payment plan, where certain levels unlock particular functionality. Or they could buyout all third party paid extensions they care about and make the entire product free or part of a single package.
The point is that Automattic purchasing WooCommerce gives them an incredible amount of flexibility in terms of how to move forward. WooCommerce store owners should be prepared for a lot of potential change.
As a bootstrapped company, WooThemes had to turn a profit. Automattic has to make the company more valuable, but does not need to care about cash day to day. Their stated goal is to make products people want to use. A very small number of people at Automattic really consider profits and losses regularly. That mindset, when applied to WooCommerce, could bring about significant change indeed.
Bringing WooCommerce to WordPress.com
An important concern over the next year or two will be how to bring WooCommerce to WordPress.com. There is little question that it will happen.
Matt Mullenweg highlighted the demand from the general WordPress.com userbase, and hosted WooCommerce would be a great answer to Squarespace's eCommerce add-on, and the likes of Shopify and BigCartel.
Furthermore, I'm sure a number of WordPress.com VIP customers will be clamoring for WooCommerce. Automattic's Vice President of Platform Services, Paul Maiorana, said, "VIP tends to follow the same trends as the broader WP community. Initially blogs, then CMS, now everything." He is excited about being able to offer a more catered eCommerce experience "in house to better service those customers."
A hosted version of WooCommerce will be a very compelling upsell for WordPress.com if they are able to pull it off well. This too, will not be easy. But they are starting with a heck of a head start, given the WooCommerce brand name, team, and existing plugin infrastructure.
What the acquisition means for other WooThemes products
WooThemes makes more than WooCommerce, however nearly all of their products today at least integrate with WooCommerce.
WooThemes' themes will be integrated into WordPress.com's theme offering. Eleven themes are already listed there from an existing partnership that goes back to early 2011.
The Sensei courseware plugin will also continue to be developed and maintained. Regarding Sensei, Matt Mullenweg said, "their team is passionate about it, which is kind of the criteria for what Automattic works on."
There is a lot of potential in the course space, and I actually think this could be a nice win for Automattic in this acquisition, especially if Sensei gets additional resources and attention.
WooThemes has other active free plugins that I doubt will change much. WooSlider is their only other paid plugin, but I don't think it makes up a considerable amount of revenue.
I wouldn't be surprised if both WooSlider and Sensei core become free plugins.
WooThemes' revenue and the acquisition price
Everyone wants to know: how much was WooThemes making, and how much was the acquisition for?
Re/code's Peter Kafka has sources that say the acquisition was for, "more than $30 million in cash and stock." I believe this to be a reasonable amount and I don't think he'd make the claim without some confidence.
I don't know what the terms of the deal were. I've tried all day to find out. The best I can do is tell you what I know, what I think I know, and guess right along with everyone else. Sounds fun, right?
I'm quite confident that WooThemes' revenues were around $9-$10 million in 2013. I also know that they have had positive trajectory month over month growth for some time, and I have reason to believe one of their more recent record months well exceeded $1 million in revenue.
If we extrapolate the 2013 numbers with 10-20% growth, we can presume that their gross revenues are somewhere in the neighborhood of $15 million annually.
Based on some feedback from people I trust, a 2x multiple of expected 2015 revenues isn't out of the question. In typical proprietary software and product situations, that would be a low multiplier.
But in this case, WooThemes' sends a lot of money directly to third party developers, and spends a great deal of money on development and support. Furthermore, WooCommerce isn't proprietary, it's open source; which while I love and advocate for it, it simply would be difficult to valuate the same as proprietary software.
Additionally, I could be naive, but in the case of Automattic I'd rather more stock than cash. They are destined for an IPO (someday) that will likely put them well beyond their latest $1.16 billion valuation, and today's stock could be worth many times what it is now in the years to come.
Lastly, I don't think Re/code would run a number they pulled out of thin air. I think they got that from somewhere — perhaps a VC source.
Good for both sides, but not without consequences
I firmly believe WooThemes could've continued to grow WooCommerce to be worth $100 million or more. But it would've likely been a long and challenging road.
Under the Automattic umbrella, they have a great shot to continue making an awesome eCommerce product without some of their current burdens and with some outstanding new resources.
Meanwhile, especially if the $30-$35 million price is correct, I think Automattic got a steal. It's a brilliant way into a huge market with a major player.
There are potential downsides to this purchase. For one, it makes Automattic further feel like a vacuum that inevitably sucks up the best talent, agencies, and products once they showcase their potential for success.
WooThemes was the bastion all other bootstrapped WordPress products stood behind. Knowing it's possible to do something as big as WooThemes was doing, without funding and starting from nothing, is awesome.
Seeing them snatched up by Automattic around the time they've become nearly ubiquitous with the term "WordPress eCommerce" is kind of a bummer. It's like we now have to start over again to see what WordPress centric product company can grow big enough to stand beside Automattic, not under it.[/pullquote]
I also have some fear that if Automattic rocks the boat too much with WooCommerce it will cause some big inroads WordPress has made in self-hosted eCommerce to be lost.
My concerns are relatively minor. Would I have loved to see WooThemes continue to grow and dominate eCommerce alone? Yes. Am I excited by what this deal makes possible? Yes. Am I a little concerned what it will do to the WordPress economy? Yes.
We must all weigh the pros and cons of any decision. For Mark, Magnus, and the WooThemes team, this is a move that is good for them during this time, and will likely be good for the company they started seven years ago.
For Automattic, this is a heck of a way to round out their first decade in business. It'll be really interesting to see what the next decade holds in store, but I bet Automattic will look a lot different then, like they do now compared to 2005.
Congratulations to both teams. You can read the announcements on Matt's blog and WooThemes' blog.
Photo credit: Matt Mullenweg