I'm super excited to finally be able to say that tickets for Publish 2017 are available. The event, as many of you already know, is in Atlanta, on August 3rd and 4th. That's a Thursday and Friday.
Go straight to the ticket purchase area if you want to skip the pitch.
It's being held at a place called The Garage, which is in Tech Square, in Midtown Atlanta (Google Maps). Here's the inside: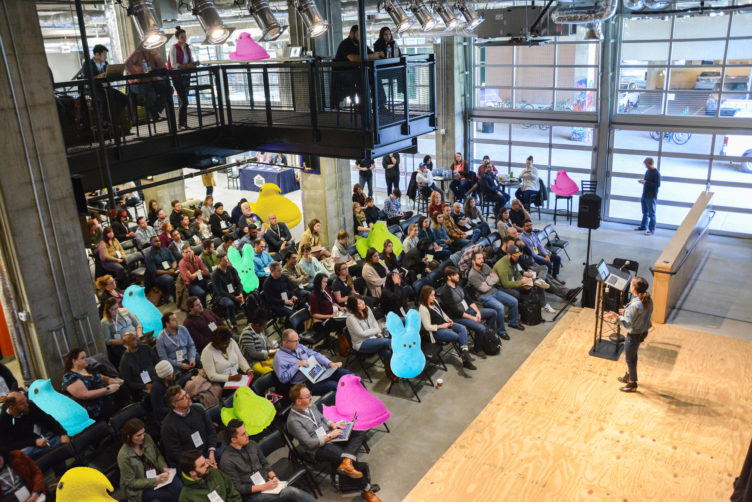 It's a laid back venue that acts as an incubator of sorts when not doing events. Those are garage doors on the side, hence the name.
Our after party is upstairs, on the rooftop, where we'll have dinner and social activities, with an amazing view of Atlanta.
The event will feel like a mix between a meetup and a conference. Like last time, we'll have a mix of talks, interviews, and conversation-format content. We'll also make plenty of time for networking and social stuff built right in.
I've posted our initial sponsors and speakers; more of each are on the way.
Thanks to initial partners
Sponsors cover a huge percentage of an event's costs, and I want to thank our first sponsors who quickly jumped on board for Publish.
Let's start with a big thank you to our Platinum Partner this year, Liquid Web. Liquid Web is making a huge push into the Managed WordPress market right now, and I'm excited to give them a venue to introduce themselves to Publish attendees. Many of you have likely known Liquid Web for their quality managed servers and "Heroic Support" for a long time, but now they're getting into managed WordPress in a big way.
Pantheon is a Gold Partner for Publish this year. Their platform is one of the most advanced implementations in the WordPress space, with development and staging environments built in. I'm thrilled to have them on board.
And SiteGround is back as a second-time Gold Partner for Publish. I'm so appreciative of their support, and they have long been a reliable and high-quality hosting partner of mine (I've been their customer for more than 5 years now!) and they are always so supportive of the WordPress ecosystem.
My friends at Prospress are a Silver Partner for Publish. Prospress makes WooCommerce Subscriptions, and their next product is going to be incredible; Brent was telling me about it a couple week ago, and I bet I'll be able to share it with you soon. I rely a great deal on Prospress's Subscriptions product and I'm so happy they are partnering for Publish.
If you and your organization want to sponsor Post Status, there are spots available at the Gold (1 more), Silver (7 more), and Community levels. Get in touch!
Our speakers!
I have spent weeks trying to put together a high-quality, diverse group of speakers for Publish. I'm not done! Expect more speaker announcements in the coming weeks. But I'm very happy with our speakers secured thus far. Allow me to introduce them!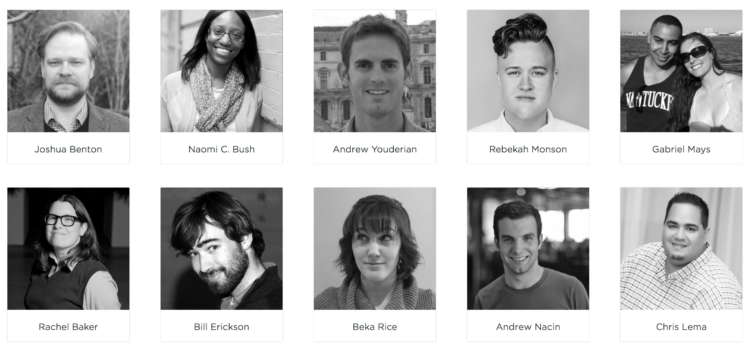 Joshua Benton is the director of the Nieman Journalism Lab at Harvard. They are one of my go-to sources for Post Status, and he's at the intersection of media and technology. It's hard to say how pumped I was when he said he could  come.
Naomi Bush is the creator of Gravity+, an extension ecosystem for Gravity Forms. She's built a successful business creating extensions for the popular form builder, and she's an Atlanta native to boot! It'll be fascinating to hear more of her story.
Andrew Youderian is the founder of eCommerce Fuel — an exceptional community for eCommerce store owners — and he's owned several eCommerce businesses himself. He's sold two of them, and I'm super pumped to learn from him.
Rebekah Monson is building what I like to call the SB Nation for local news. Whereby.us is creating a new model for local news — currently in Miami and Seattle — with several more locations on the docket. And WordPress is at the center of their technology stack.
Gabe Mays is the head of WordPress at GoDaddy. GoDaddy is at the center of many of the biggest moves in WordPress-land, and Gabe has inside knowledge on all of it.
Rachel Baker is the Lead Engineer at WireCutter, not to mention her role as a core committer and co-lead of the WordPress REST API. She has so much she can share, it's been hard to pick the perfect angle!
Bill Erickson is often who I think of when I try and think who has truly succeeded as a small business in the service model. Every time I talk to Bill, I learn something that changes how I think about my own business and strategies.
Beka Rice seems to do a little bit of everything at SkyVerge, where they craft products for both WooCommerce and Shopify. She has extensive product and management knowledge and she's going to share that with us.
Andrew Nacin is a Lead Developer for the WordPress project, and he's spent the last 851 days working for the United States Digital Service. I've been waiting on this interview for a long time, and I can already tell you it'll be fun, not to mention informative.
Chris Lema needs little introduction; he's probably a mentor to half of you, like he is to me. He brings decades of product and service knowledge to the table, and these days he's applying that to Liquid Web as well. At Publish, he'll offer us a dose.
You can click each presenter's link for their full profile, websites, etc. You have probably not heard of everyone, and that's great! I'm really trying to craft a new and unique event with our lineup.
Some of our presenters will be presenting together, others will be standalone. And we'll have more announcements  to come. I just wanted to offer a taste so that you can get an idea for what to expect.
Where to stay and when to travel
I'll have a hotel block for a $199 rate at The Georgia Tech Hotel, if nothing changes. I just don't quite have it on the books yet. I may also secure one for The Renaissance Midtown, also walking distance, for Marriott loyalists.
If you can find a better rate at a nearby hotel or AirBnB, go for it! But this one is right next to our venue, and walkability in Atlanta is nice to have.
There will be full days of activity on Thursday and Friday. I'd recommend staying Wednesday through Saturday. There will also be speaker/sponsor stuff, and likely a pre-party on Wednesday, and perhaps a social out-and-about event on Saturday. But I think you'll be well served to be there the full days on Thursday and Friday.
For flyers, Atlanta is a Delta hub. Ticket prices I've checked are really reasonable right now, so it's probably a good time to book flights. Other major airlines all fly to Atlanta as well. It's a busy airport, so you'll want to plan accordingly, especially when leaving Atlanta.
There's also a public transport (Marta) line that has a stop really close to the hotels, for folks that don't want to Lyft. I've tried to make everything we do accessible, and you should expect minimal need to travel once you're there.
Ticket prices now and later
Tickets for members are $349. I'm promoting tickets for non-members as inclusive with a membership for $449.
Be sure to log in for member pricing! You should see a bright blue box on your My Account page saying you're a member; if not, please email [email protected] so we can resolve it.
Prices for both will go up after a limited time, so if you want to come, and you want your friends who aren't members to come, buy sooner than later.
I can't tell you how helpful it is for people to buy tickets early. It gets really stressful trying to plan an event when you have to hedge for attendance. A third party event is not like a WordCamp with the backing of the foundation, so if you are coming, I'd really, really appreciate if you make the decision as soon as possible.
Get the word out?
One of the toughest things to do with any event is to get the word out. If you could share this event with your friends and social circles, it will mean a great deal to me.
I am organizing this in the hopes that it will add a highly valuable opportunity to network and learn for the Post Status and WordPress community. I wish for it to be laid back, but educational; a real opportunity to bring people together in a collaborative and friendly environment. I hope you can make it.