I love the WordPress community, but a few of you are assholes.
When I began using WordPress, it felt a bit fairytale-like — almost like being in the Land of Oz — as if I'd stumbled across a place where everything was technicolor and anything was possible. Still, I wasn't wearing ruby slippers, and I didn't have my toes on the start of a yellow brick road. I knew I wasn't in Kansas anymore (metaphorically speaking, of course), but like most fairy tales, the Land of Oz isn't perfect — and there are those who undermine other peoples' happiness.
As a woman, I've experienced just about every form of misogyny there is — from sidewards glances and raised eyebrows, to mansplaining, to flat-out "women don't belong here." But to be fair, the WordPress community was better than most others. It still is.
And yet, some of you need to have a house dropped on you.
So you're probably thinking "surely, Michelle, it can't be that bad."
Oh, but it is. Not everywhere. And not everyone. (And before you say it, yes, not ALL men.) But how many are "just enough?" How much degradation and outright hostility should women in WordPress take before getting totally fed up and calling it out?
I guess as much as we have now. Because I've had enough. I'm totally fed up. And I'm calling it out.
(And no, I'm not blurring names in my screenshots because if they posted it publicly, I can, too.)
"She should pluck her eyes out."
This was said in a Facebook group. The leaders of that group didn't kowtow to the man who said it, and they did stand up to it. So what did a woman do that was so bad that a man would resort to this reply? Merely asked the plugin creator to change some of the documentation from "he" to "they." And this man threw a total tantrum.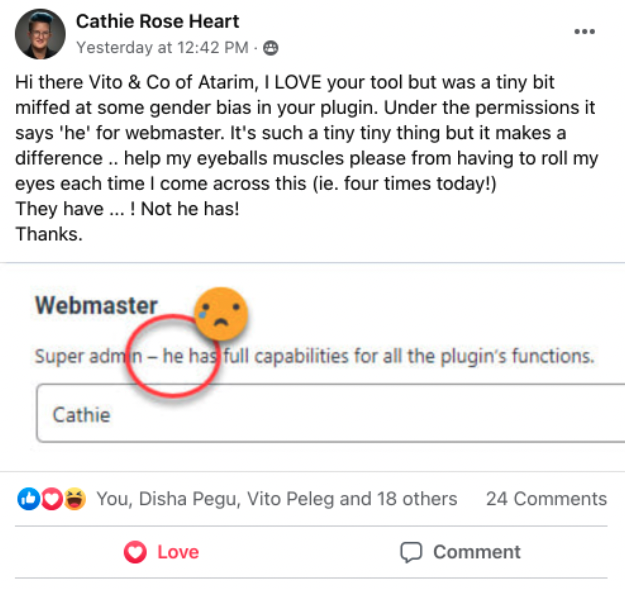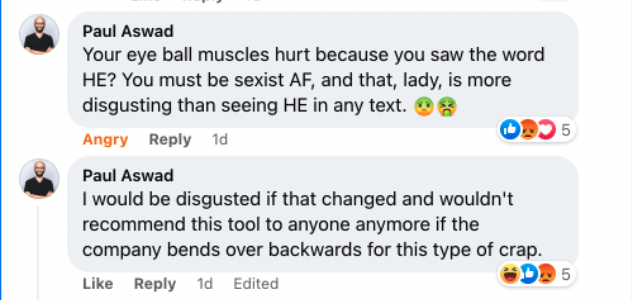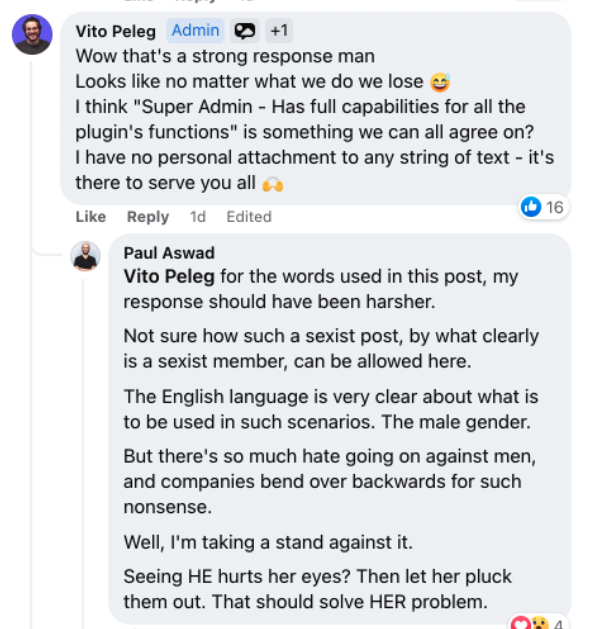 Well, that escalated quickly. This man was so triggered by losing the word "he" in the documentation that he became openly hostile in a public forum.
Women deal with this more than you know. Usually, it's a threatening or belittling DM on Slack, Twitter, or other social platforms. At least when it's out in the open others can see it for themselves.
"Women shouldn't code."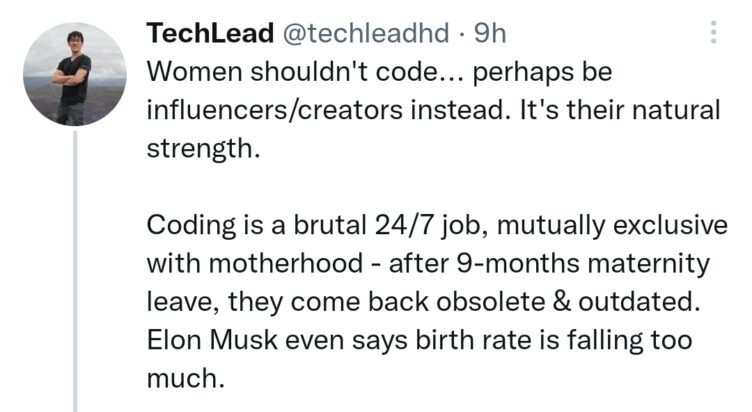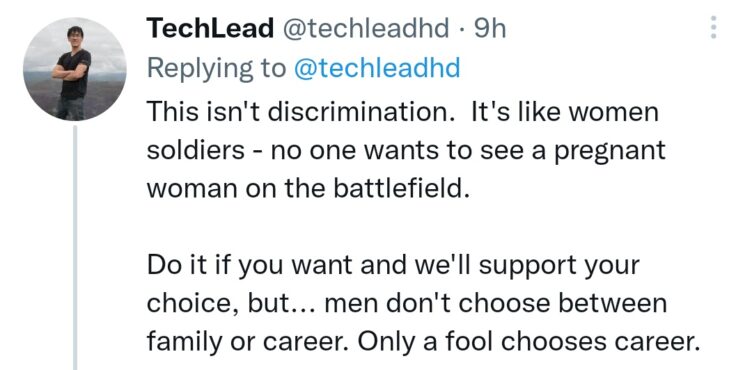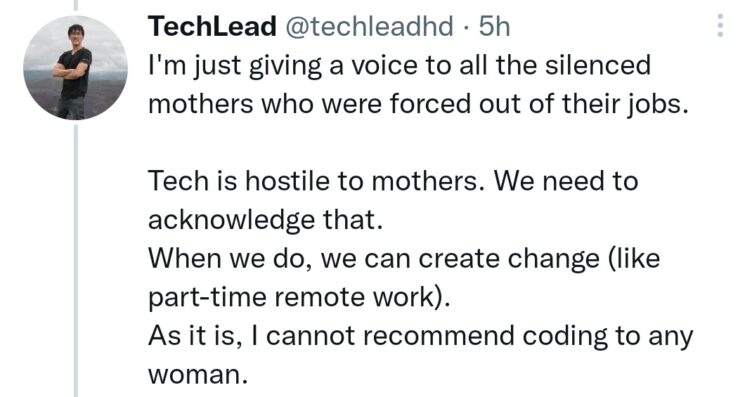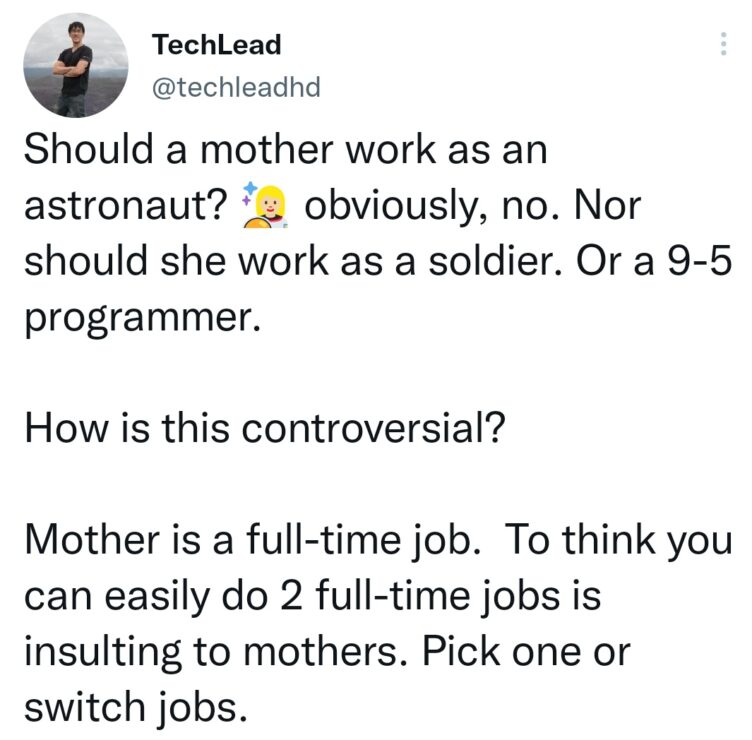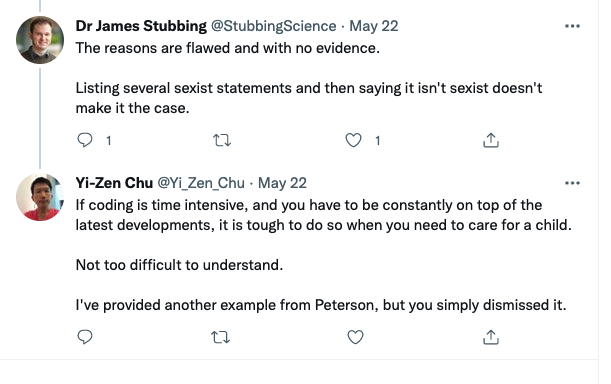 I could write an entire book about this one, but let's look at just a few things about this thinking that are flawed.
Some women don't have the luxury of not working. Whether they are single, single mothers, or part of a dual-income family that needs two incomes to survive, most women don't have the choice to not work.
For people who choose to become parents, why is it a woman's responsibility to raise children? Why is it not a partnership between parents to raise children together? (Indeed, in my experience, for most two-parent families, it is shared, but clearly, not everyone thinks this way.)
No one should gatekeep women (and non-binary people) out of any profession. Why should only men get to pursue the career they choose, are passionate about, or are good at? There are so many brilliant and talented women and non-binary coders and no one should stand in the way of them pursuing that goal.
"I was simply speaking to all the gentlemen."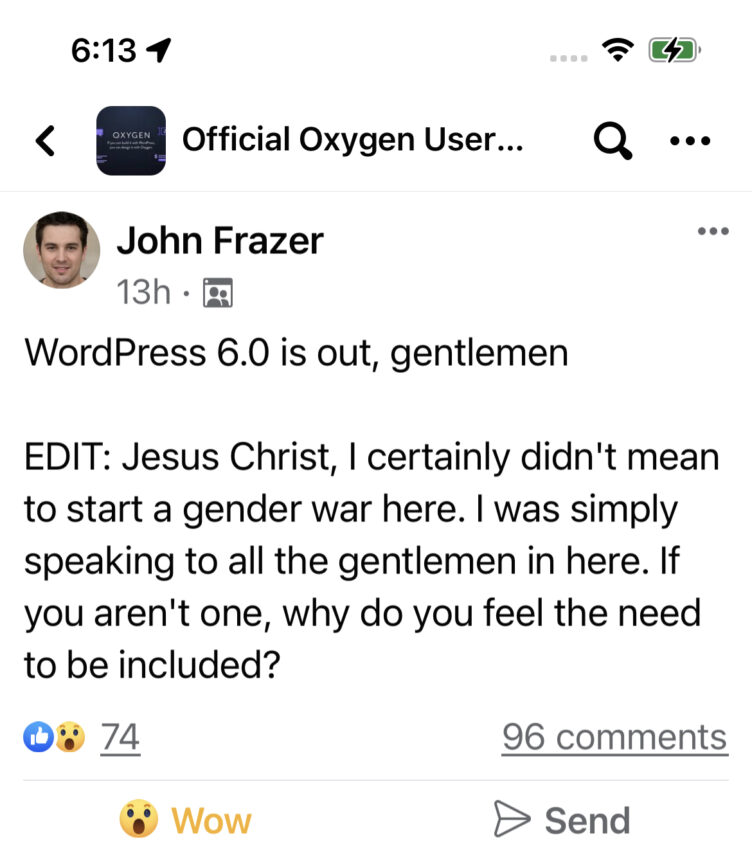 In another Facebook group post, this guy addresses only the men in the group — a group of almost 33,000 people. Then when he gets called out for it, he doubles down and makes it worse.
96 comments calling out his bad behavior, and I was able to grab the screenshot before he deleted it. (Remember, what you post on the Internet lives forever.)
Why address only men in a tech group?
"The squad is not the best it can be."
In 2020, WordPress had its first women and non binary led release release squad. (WordPress 5.6) Of course, this was both lauded and lambasted. Controversy seemed unavoidable.
In the Advanced WordPress Facebook group, Joost de Valk posted a link to the WP Tavern article about the release squad, in a positive way, and asked what people were looking forward to. Over 300 comments followed — almost none about what would be in the release, and most of which were calling out the idea of an women and non binary led release squad, saying that it wouldn't work, and even calling it sexist.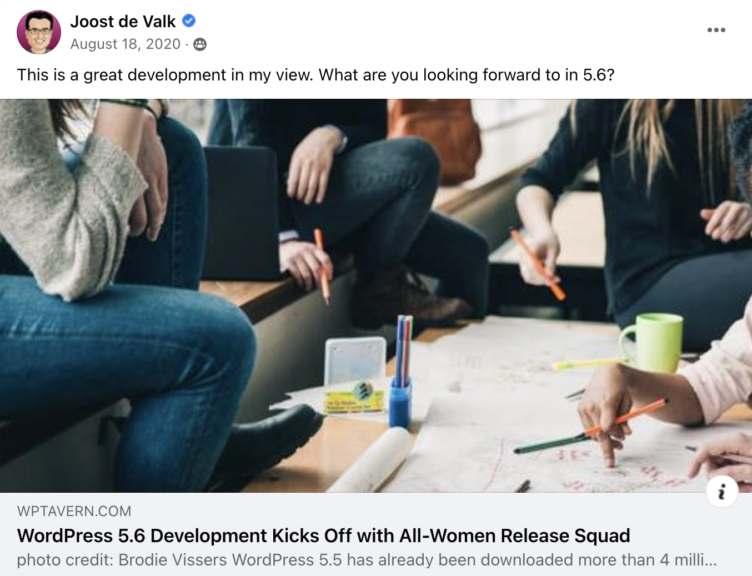 Comments like the one below carried a common thread…with some men even saying that "white conservative men" are an underrepresented group and should have their own release squad, too. (Seriously. Someone said that.)

My response to this reply was:
Peter Shaw "bound to suffer." Sounds like good old boys club jargon there. Do you really think the code is going to suffer or that WordPress will crash and burn? Do you honestly believe that an OPEN SOURCE PROJECT will be unmonitored by the entire community? If anything, we are more likely to be overly/highly-monitored by those who disagree and wait for us (and some will even want us) to fail. But in an open source environment where everyone should want success, failure is impossible. (To borrow the words of Susan B. Anthony on the anniversary of women's suffrage.) This is historic. You may not agree with it, but to deny it, criticize it, or vehemently oppose it isn't going to stop it. If anything, you and those who think like you are the ones who will cause divisiveness in the community. Instead of spewing your overly posited rhetoric, be a supporter. Want it to succeed. Cheer for the history being made. Encourage the squad. Show that you're not threatened "by a bunch of girls." We all love WordPress. Be the part of the community that makes us proud.
"Someplace where there isn't any trouble. Do you suppose there is such a place, Toto? There must be."
I was talking to a friend earlier this week about this post while I was putting it together. His response was "you're not going to change anyone's mind."
I disagree. While I may not change die-hard misogynists, my hope is that by calling out behavior like this, bringing it out into the open, and showing the greater community how misogyny is alive and well in WordPress (and beyond), I can start to change the community as a whole, to make it a safer space for women and non-binary people to be successful, to find happiness, and to thrive in a welcoming community.
I'm not alone. There are many of us. And we're here to stay.
"There's no place like [WordPress]."
With all its flaws, the WordPress community is still home. We have drama. We have bad behavior, but we have success, too. We have more and more inclusion. We have camaraderie. We have everything that comes with community, and the nature of open-source projects.
My Challenge to You
My challenge to all of you who read this is this: do one thing every day to try to make WordPress a better and safer space for someone else. If we work together (which is one of our strengths), WordPress will be an even better place for us all.
Thank you to Cory & Lindsey Miller and the team at Post Status for making this a safe space for me to share the world through my lens.