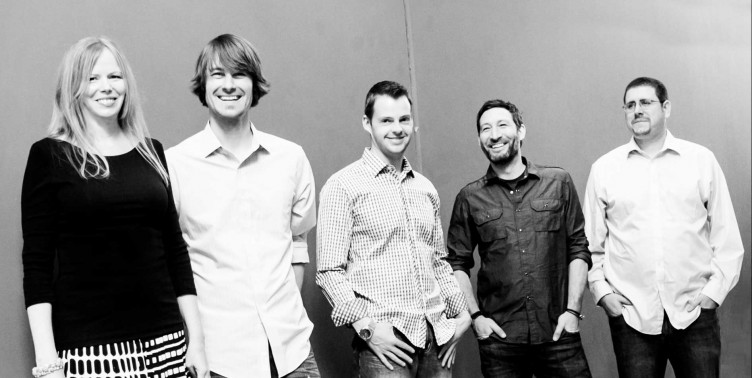 Pagely has made some drastic changes to their hosting platform over the last few months. They've moved from Firehost to being fully powered by Amazon Web Services (AWS), led by their new CTO, Joshua Eichorn.
Measuring tiers of hosting by pageviews is a popular method for WordPress hosting companies, but Pagely doesn't do that. They measure purely by bandwidth and storage. That means that lighter sites with more traffic don't have to pay the same fees that heavier sites have to pay.
We have always listed traffic levels our plans are optimized to support, but never have we, nor will we charge for pageviews/visits. You pay for what we pay for: CPU, RAM, Bandwidth, and Disk space. Simple.
With their move to AWS, they also changed their pricing levels. They now have three tiers, each with their own plans. They still maintain the traditional managed WordPress setup, capable for managing one WordPress website, starting at $24. But now they've also introduced developer options, with 3-levels of VPSs and much higher allowances for "apps" or instances of WordPress.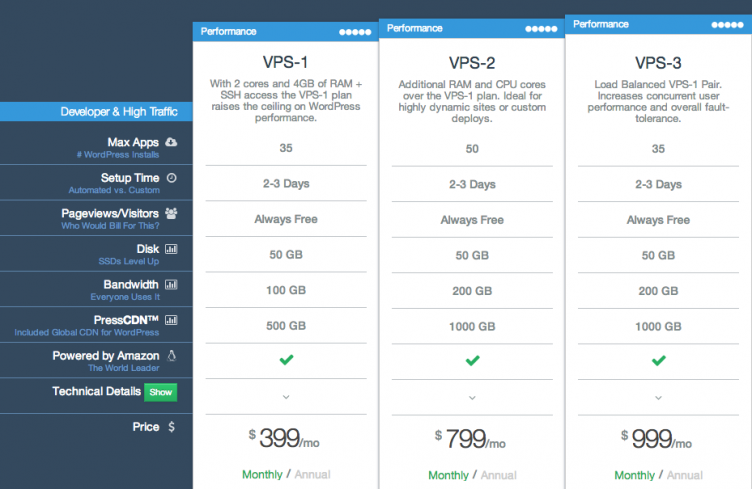 With this move, Pagely is now aggressively targeting developers and development shops, as well as high-scale WordPress websites. These levels of disk space and bandwidth are capable of handling some very, very high traffic applications.
Scaling hosting should be easy
As a site grows, it's sometimes painful to have to deal with moving servers and hosting plans to keep up. Don't get me wrong, growing is awesome. But when your hosting plan can't keep up, it's a problem. Newer options like Pantheon are attacking this, by hosting everything on a single platform. Pagely is going after it similarly — though not quite offering a universal platform — they are trying to make it very easy to scale from one plan to the next, as the customer's needs change.
I love seeing hosts tackle site owner frustrations, and I'm happy to see Pagely giving their customers easy ways to scale their hosting options as they grow.
New features for developers
One thing many managed WordPress hosting companies have long limited is developer access to certain features. In traditional hosting environments, cPanel has ruled the day, and developers could also access sites via SFTP, SSH, and remote connections without issue. In an attempt to simplify the hosting experience, many WordPress hosting companies eliminated these options.
But some of these things are important to developers that are used to certain ways of doing what they do.
Pagely is now offering a number of developer and advanced site centric features in their VPS plans:
SFTP access upon request
SSH access
One click staging sites
Built in Git / SVN support
Remote Database access
Multisite capability
Dedicated IPs
SSL capability
Built-in network security protocols (what they call PressArmor)
Built-in CDN (what they call PressCDN)
New dashboard for managing apps
Pagely has also introduced a new dashboard and site management interface. This is one of the best implementations I've seen for managing websites.
In my mind, an easy to use dashboard is a key ingredient for a quality managed host. Nobody wants to spend time in a confusing dashboard.
What AWS and VPS options means for you and Pagely
Historically, I would've probably pigeon-holed Pagely as a host that's great for single-site owners that don't want to worry about their hosting needs. Maybe that was unfair, but it was my take.
Now, with new VPS options, and with the AWS infrastructure, I think Pagely has opened themselves up to a broader, more technical, developer audience. AWS powers so many huge web applications they aren't worth listing. But if AWS went down, the whole internet would feel it: Netflix, Pinterest, Adobe, NASA. To name a few.
By using AWS, Pagely is basing their product on one of the largest (if not the largest), most reliable web infrastructures available. If you are set on wanting AWS, I don't know why you wouldn't want to seriously consider Pagely for WordPress specific applications. It's a very smart move on their part.
I've talked with Pagely's CEO and co-founder, Joshua Strebel, a number of times. His passion and drive to deliver an excellent hosting experience for his customers comes across loud and clear. Their new investments and changes reflect this passion. If you haven't checked out Pagely in a while, I think you should.
Trends in WordPress hosting markets
WordPress specific hosting is continually evolving and changing rapidly. I sometimes feel that I need to check out a host at least once a year to see what's new. Competition in this space (sometimes from very big players, like EIG and GoDaddy) is making the original players (like Pagely and Pressable) double down. And I think, for the most part, they are doing a great job.
As WordPress changes, and web applications in general evolve, we'll continue to see new patterns arise, new features and workflows come from hosts, and our hosting environments in general will improve.
For an industry that was — for a long time — a race to the bottom, I'm so happy to see such massive improvements in quality, where they are now seeking the right type of customer, and not just another customer.
Granted, there are still thousands of cheap, terrible hosting providers. And there are also sadly some hosts promising a lot but delivering a little. But now we have a pretty significant number of hosts that care not only about customer numbers and dollars, but customer experience. And that is excellent.